As NYE is approaching I know that a lot of you are wondering what to wear and it is really difficult to find that one perfect outfit. This is why I have made it my task to show you some festive looks, simple but with a bit of spark, as I like them, in order to inspire you. I know that a good dress can make an outfit and this is why I chose a bright yellow one, but the right accessories can make it stand out even more, giving class and that special touch for a polished look.
I've always been a bag lover and whenever I find a good one I must share the news with you. There is a new brand in town called Wild Inga and it has the most sophisticated yet minimal bags for any occasion. Whether you are searching for a carry on for the office, a clutch, or small purse you will find 'the one' at Wild Inga. As I was looking for a special bag for the NYE, this blue croc beauty made me skip a breath. The quality is so good and I love it that they have it on different sizes, this blue Lauren is a mini one, so elegant and feminine, perfect for this special night. I have adjusted the gold chain in order to make it a small purse, but will definitely wear it wrapped around for a casual basic outfit to make it more special and pop. And because the holidays are near I have a special discount for you of 15% of any Wild Inga bag purchased in the next 3 days with the code 'larisacostea'. Enjoy!
For the shoes I opted for something sparkly as the bubbles of champagne, a pair of gorgeous sandals from Joyas, the shoe shop that I have mentioned before. They had to be comfy enough and the soft inner leather allows you to dance all night as the outer layer is covered in silver and gold glitter, a dream for every fashionista. Don't forget they make shoes in any size, the too small or too big sizes, so difficult to find in other shops. You can also customize them as you want, but for me these were perfect and I love the way the strap around my ankle looks like a piece of jewelry.
Loved combining all these items together and can't wait to share even more festive looks with you.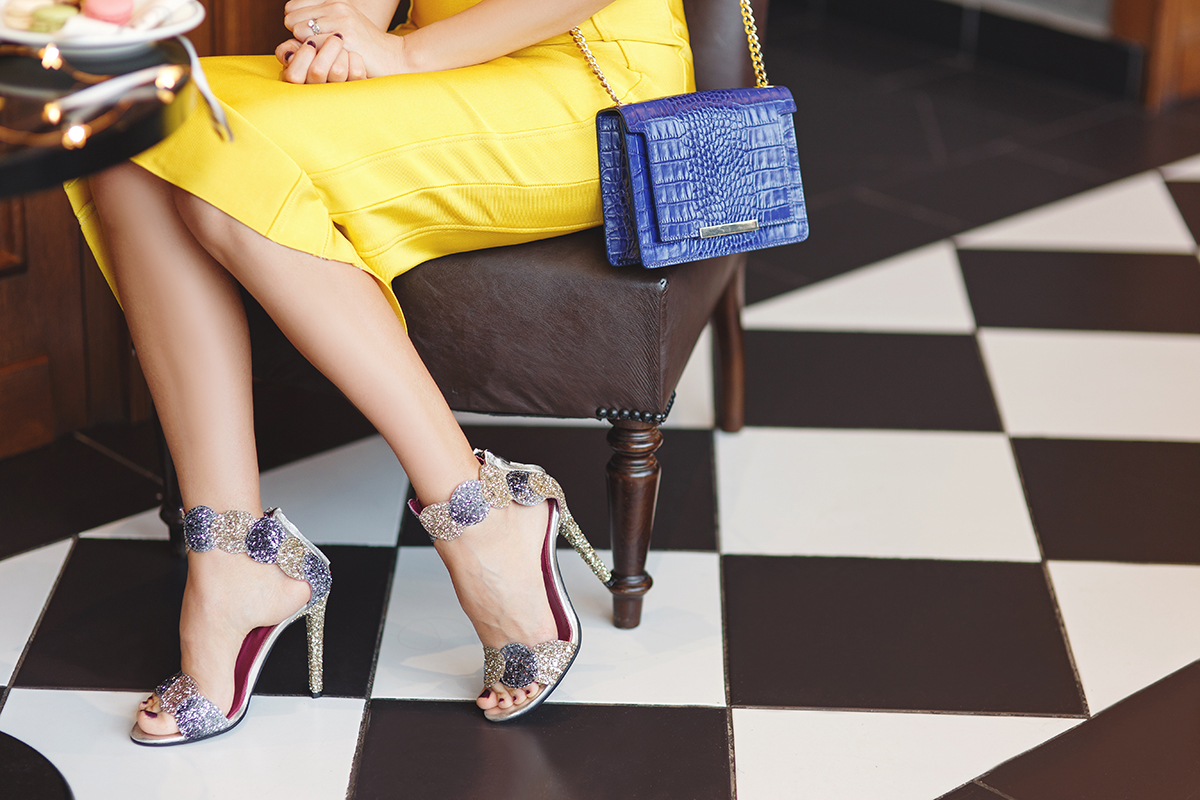 I was wearing:
My Bandage Dress yellow dress
Wild Inga – Lauren mini blue croc bag
Joyas – Aubrielle silver and gold sandals
Location: Paul Romania