I am super excited to finally start telling you the story of my Palma de Mallorca adventure and I will begin with the beginning and our first stop there. First area that we've visited and stayed in was Son Vida, really close to Palma, the capital of the island, a very green and quiet place. We have stayed at Castillo Son Vida and it was actually the best place we could have booked. The building itself is a 'castillo' and they even have a big tower that looks amazing during the evening. The best part of this place is their immense golf fiend, gardens and a terrace from where you can see the whole city.
First time we got there was super late and couldn't see much of the view, but in the next morning we've had breakfast with this amazing landscape in front of us. Also I have to tell you about the delicious dinner we've had there and as you can see from the pics, it was pretty appealing too. Adrian got lamb ribs and I have tasted the beef that was amazing and well done, as I like it. If you want to escape the cold weather, Palma de Mallorca is a great place to go and relax for a week. And if you are planning on going check my future posts, because I have more secret gems of the island to share with you.
About my look now, I was wearing that day a brand new leather jacket from NA-KD that doesn't look that new. 😛 It has that vintage vibe that I totally adore. If you want to order anything from NA-KD and I totally advise you to, as they deliver super fast and have great quality items, don't forget to use the discount code 'LARISACOSTEA30' for 30% off. Under my jacket I was wearing a Zara black turtleneck, a checked skirt from Asos, Laura Baldini tights and again my red boots that I totally love. Also, check Shopbop's sales till the 26th to score some designer items at really affordable prices. Check this post for more details!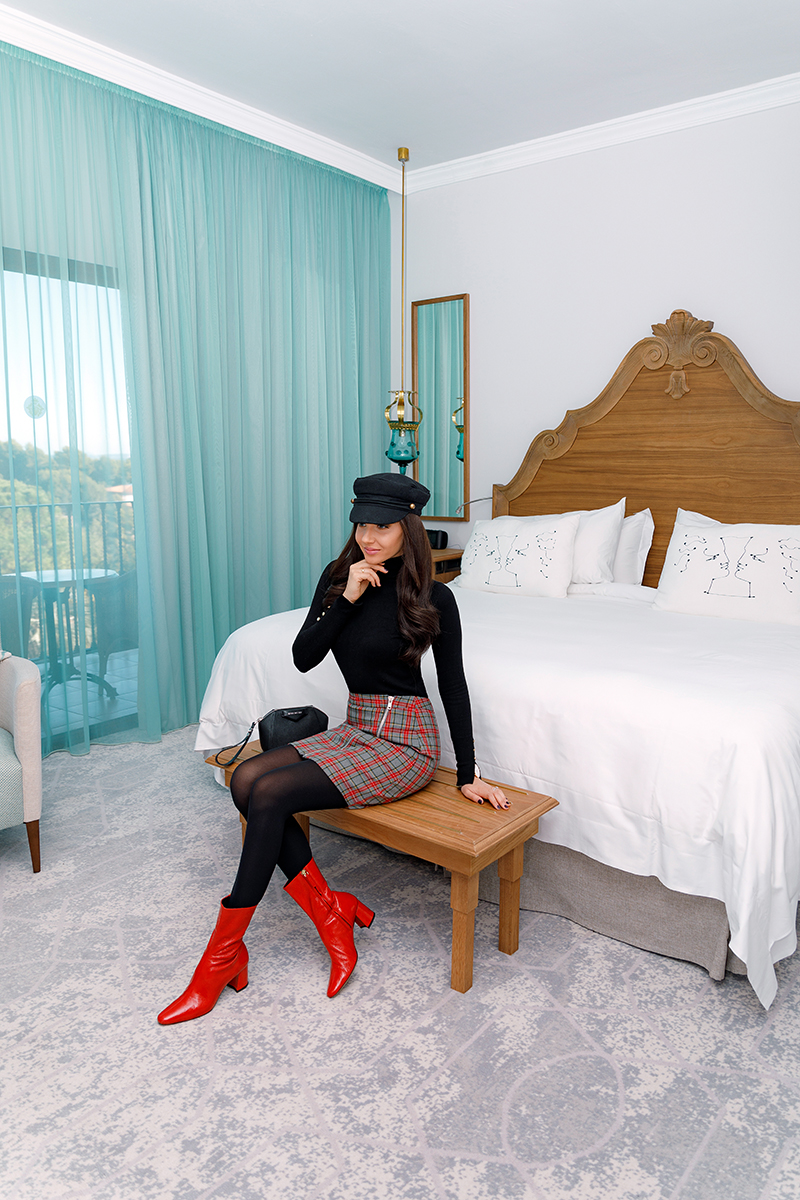 I was wearing:
Asos newspaper boy cap
Zara black turtleneck from Kurtmann.ro
NA-KD vintage look leather jacket
Asos checked skirt
Laura Baldini tights
TRDMK red boots from Shopbop
Givenchy mini antigona bag
Cluse watch
Thanks for the lovely stay, Castillo Son Vida Palma de Mallorca!