If you want to experience the real Tuscany country life and  the beauty of nature from that area, you most definitely have to stay at Follonico. This country house has a lot of personality, filled with authentic vintage pieces of furniture. The moment I've stepped into the property I knew that I had just to breath in all the beauty and relax. Loved  chilling in my seat in front of the building with the best view over the immense vineyards near by with a book in one hand and a lemonade in the other. They even have there a little pond with geese and some lavender planted just along the most beautiful roses. It is really a dream to wake up in such a place and enjoy a good traditional breakfast with organic ingredients grown in their own yard, served by the owner himself. I loved also meeting the other guests from all over the world and hearing their stories at a cup of coffee. It is really interesting to see how people were more kind and relaxed in this kind of environment.
We've stayed at one the rooms upstairs and loved everything about it from the furniture, to the natural linen fabric of the sheets to the breathtaking view we've had at every window from each corner. It was a really great authentic experience and cannot wait to go back again and stay a little longer. Now every time I need to unplug from the chaos of a hectic city we're in, I think of this magical place located near by Pienza and Montepulciano and I instantly feel relaxed.
This is what I was wearing one beautiful evening there. Forgot to tell you that the sunsets are really beautiful too. This amazing place inspired me to wear this cute outfit with a striped and flower printed top from Chicwish. The sleeves detail is super romantic and bohemian just like the surroundings of Follonico. I have matched it with my tweed pale pink shorts, flats, a straw bag and a large straw hat.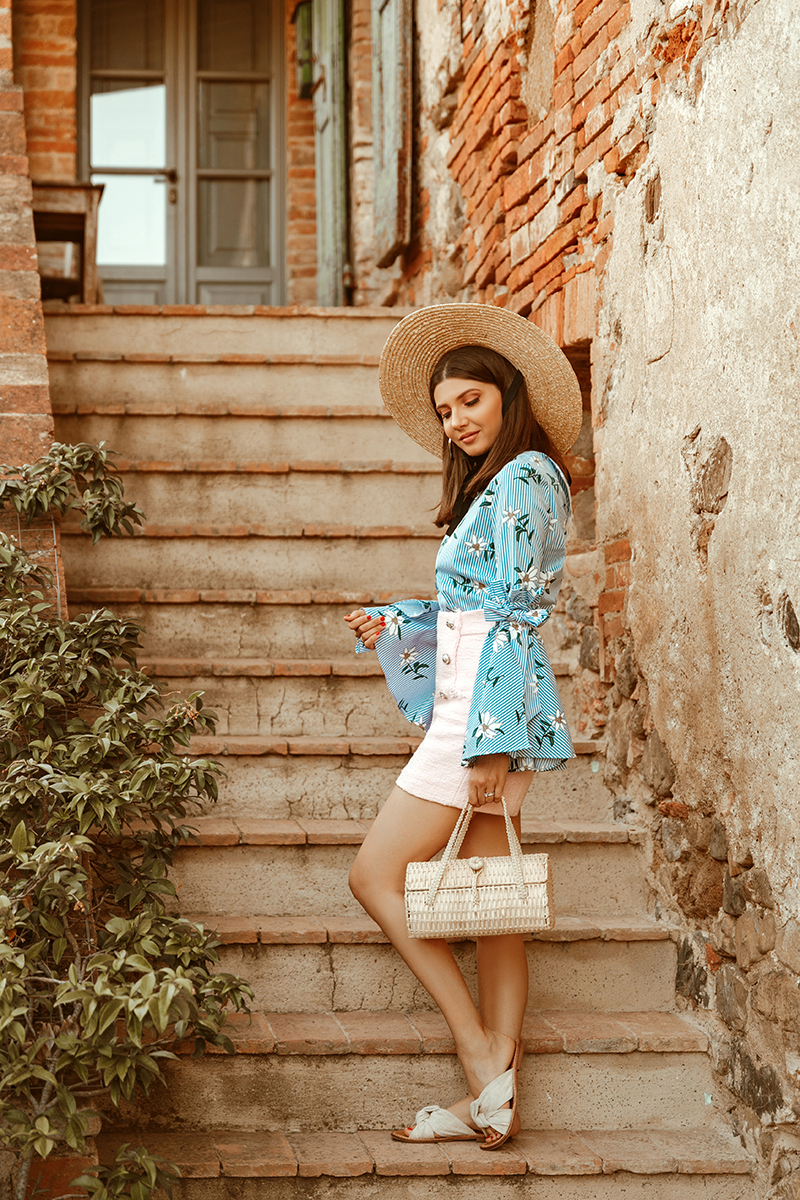 I was wearing:
Chicwish romantic sleeves top
Zara tweed shorts
Zara straw bag
Asos wide brim hat
Soludos slippers from Shopbop
Thank you for the serene stay, Follonico!