During our three days spent in Sevilla we've stayed at Hotel Alcoba del Rey, translated as the king's bedroom, a very traditional Andalusian boutique hotel, cozy and chic. It is located in the old town of Seville, next to Iglesia de Macarena and it's so close to all the main attraction, that we didn't take the car out of the parking the whole period. Also because the streets in the city center are very narrow and difficult to drive through.
Our bedroom was a very traditional one and I loved every piece of furniture with all of the colourful painted details. Felt like I was living in a story. The staff was amazing, very kind and helpful and I loved having breakfast in their restaurant area that looked so authentic. I took some pictures in the patio, in the room and also in the lobby for you to make an idea of the beauty of this place.
I was wearing for one of the warm evenings in Seville a mustard My Bandage Dress top, matched with a white skirt, from the same shop and grabbed a cape/blazer on top, because it got a bit chilly during the evening. The golden sandals are from Joyas and I must say that this basic model is my favourite. I have this type of sandals on many colours, but gold was missing from my collection and it was a bit difficult to find. I am so happy that Joyas makes them now. They have them also on silver, check them out!
I have added a bit of contrast to my outfit with the burgundy strap Paul Hewitt watch and the anchor burgundy bracelet. They are now my fave accessories, so effortlessly stylish.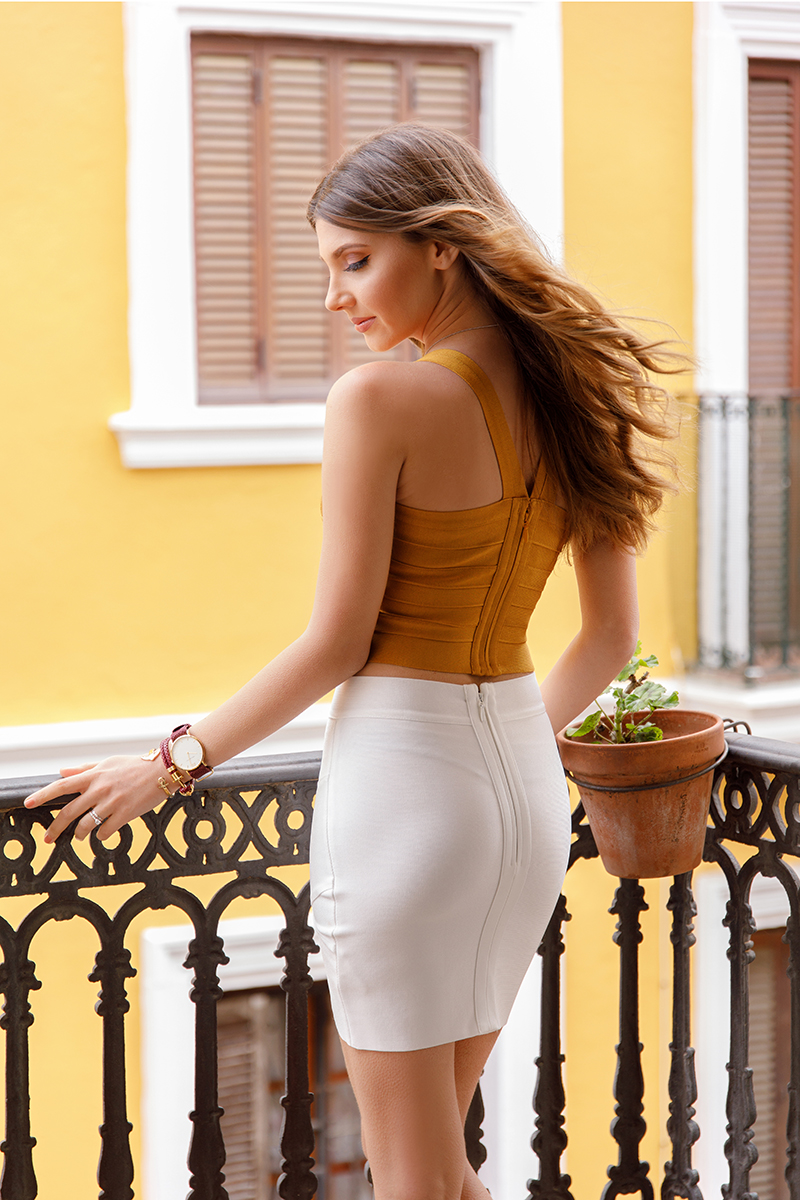 I was wearing:
My Bandage Dress mustard top
My Bandage Dress white short skirt
Joyas golden sandals
Paul Hewitt burgundy watch and anchor bracelet
Location: Hotel Alcoba del Rey
Special thanks to Sixt, Rent a Car for taking us around Seville