Third stop from this trip was in Marrakech and we didn't even plan to get here, because this was our third time in the 'salmon' coloured city. We have decided to go because of the bad weather in the Northern part of Morocco, looking for some sunshine and I am really happy that we did this because I would have regretted not going so much. Although it was a long road trip, 325 km from Rabat, it was so worth it. I almost forgot how magical this super crowded city is. In here you get to experience all kinds of flavours that make you dream in colours. It is magical and I will be forever charmed by it.
We have stayed at a beautiful Riad in Marrakech, Riad Monceau, that is the definition of elegance. Since you enter their lobby you get that relaxing feel. The rose water bowl and the lights take you directly to another world. The pool area was my favourite, super colourful and elegant, an oasis of relaxation. Both breakfast and dinner were exquisite and the tajine was amazing. Our room was filled with rose petals and the hot tub built in the bathroom was the epitome of perfection. I think there is a very good reason why the saying 'Riad life is the best life' is circulating through the internet and I think they are basically talking about Riad Monceau. 😛 Anyways I won't bore you with my opinion and let the pictures speak for themselves. So, if you are planning on going to Marrakech and you definitely should, make sure to book Riad Monceau for a dreamy experience, from food to staff, to pool and terrace. You won't be disappointed!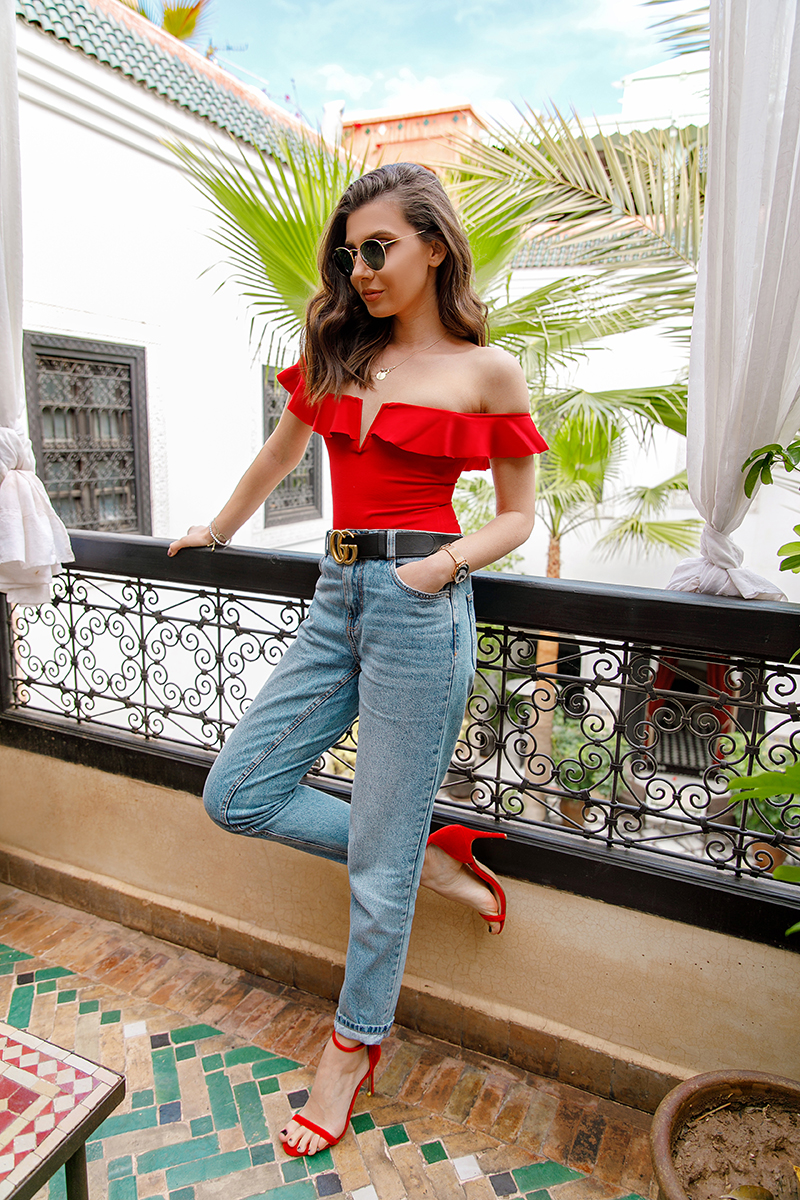 I was wearing:
Majorelle collection ruffled body from Revolve
Bershka mom jeans from Asos
Gucci belt
Raye velvet sandals
RayBan sunnies
Special thanks to Riad Monceau for having us, it was a dream experience!