Along the years I always get the question, 'How did you guys meet?' and today I want to answer to you all.
I was called to a video casting by a Romanian director with whom I have worked with before and said yes to the audition, but during that day it was a terrible blizzard and didn't want to go anymore. I was also at a University class at that time and seeing the weather outside decided to stay in, instead of skipping and going to the casting. The director called me many times during the class and insisted I come, so I went. With no make-up whatsoever and really not in the best shape for a casting with the most cozy clothing and Uggs, I didn't think that I will get the casting. When I got there, I saw three funny guys, little kids I would say now. One of them was Adrian. They had a music band and they were searching for three girls for their latest video. I just stood there in front of the camera, lip singing one of their songs and  got the casting. At the video shootings I had to be with his band colleague in a scene, but because I felt uncomfortable going out of a hot tub wearing a tight top, they've changed me with another girl and I ended up with Adrian doing a more romantic scene where we were singing to each other. This lead to that and we got super close and started going out. Since then we are inseparable and I'm always his girl from the video.
We got married 4 years ago in a beautiful day of June and this year we have celebrated our wedding anniversary in Cappadocia at more than 1000m height in a hot air balloon. It was the first time me and Adrian went for a balloon ride and it was extremely special. To mark this special trip and almost 4 years of non stop traveling around the world we have engraved matching watches from Henry London with a quote that truly describes us and our life, 'Wherever we are together…that is home'. It is our motto since we spend more days away than home, for our work with the blog, but also because this is our greatest passion, to see the world together.
Because it was our first flight with a hot air balloon we were a bit nervous and searched for the best company in Cappadocia and we did find Royal Balloon and had an unforgettable experience. The pilot was super funny and made jokes the entire flight, so we didn't feel nervous at all and he would turn each time, so that we could have the best background for our shots. At the end we celebrated this amazing experience with champagne. It was indeed the most special anniversary! I truly recommend you Royal Balloon and also a trip to Cappadocia. It is truly amazing and an adventure you will never forget!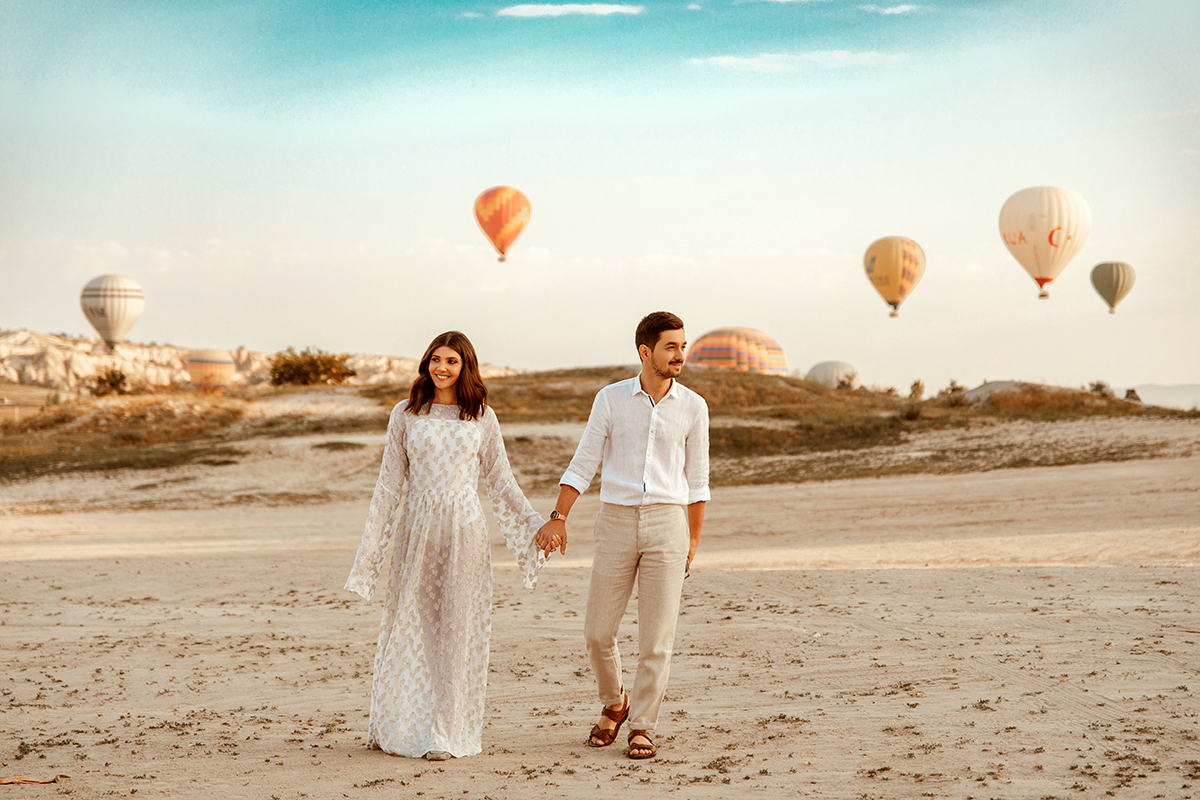 I was wearing:
NA-KD fashion dress (get it with 20% off with the code 'larisax20')
Zara straw bag
Henry London green strap square watch
Adrian was wearing:
Zara shirts
Zara pants
Henry London green dial watch
Thank you for the most unique hot air balloon flight, Royal Balloon!