If you follow me for a while now, you already know my love for Stefanel. They always have the best basics and the best fabrics. I love shopping from them also for the cold season, as they have a lot of natural fabrics such as cashmere and wool and those simple lines and textures that never go out of style, as well as for the spring-summer season for all the nice linen, cotton and light knit pieces.
This year, Stefanel has completely surprised me with lots of new rich textures for the spring-summer collection and with loads of colours. I really felt like in a candy shop and didn't know what to pick first from their store. Although it was a tough decision, the items that you see in this post are my favourite from this collection. I have taken them with me in my latest trip from Crete and created some outfits that matched the cities I have been to. I wore the first two outfits in the beautiful Rethymno and the nautical style one in Chania and its beautiful port.
So, if you haven't picked up some basics as well as statement pieces for the upcoming warm season, then you should pay a visit to Stefanel and bring some colour and good fabrics into your wardrobe. Also, let me know which one of the three is your favourite, because I cannot makeup my mind.
I really cannot pick a favourite, but I think the purple blazer is one of the best I've ever seen, the cut, the colour  and the fine linen is simply amazing. It comes with a lot of matching pants in the same colour, short, wide and straight leg, so you can make it a suit. I chose to leave it here as the center piece and wore it with white palazzo pants from the same good linen. This was the perfect outfit for a day of exploring the city center of beautiful Rethymno, near the famous Rimondi Fountain, a true landmark of the city.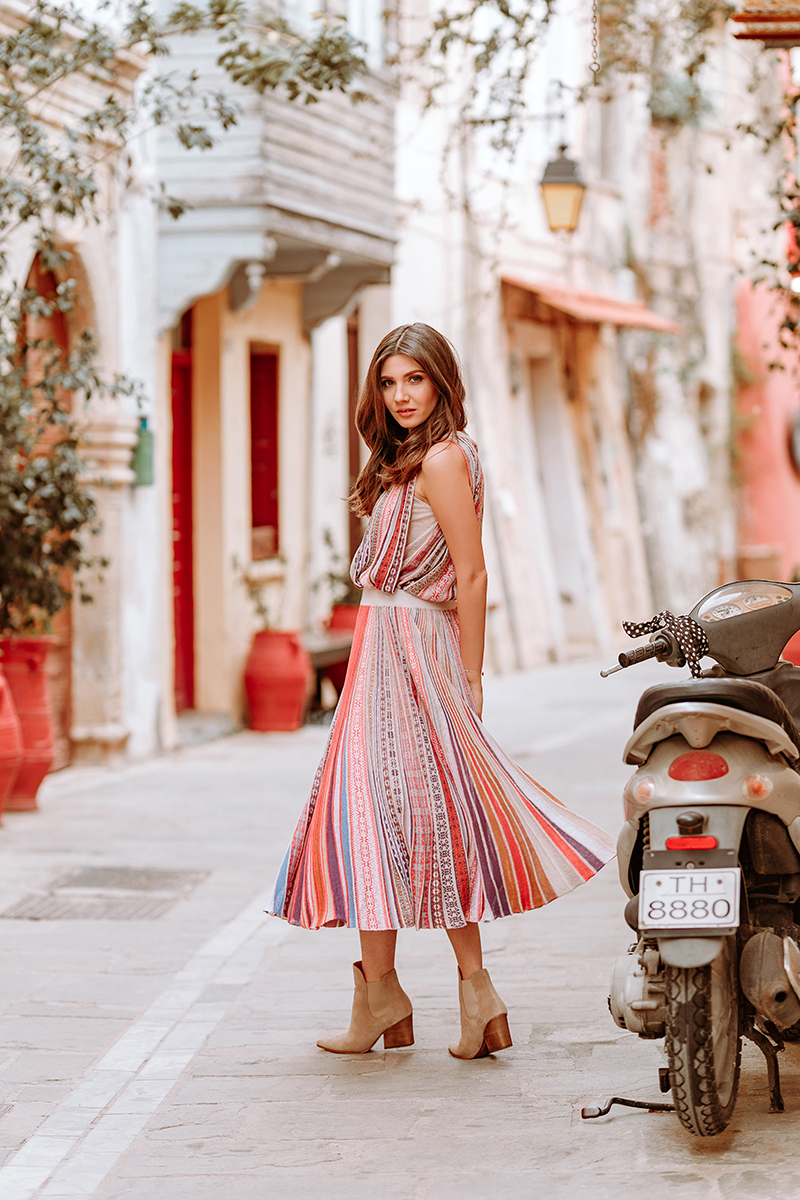 The second look is also a favourite, because I've always loved light knit for spring and summer. Even though it might seem that this type of netting is just for thick clothing, there is something about this light knit and hot weather. It is more than comfortable and you never sweat in these type of textiles. This set in particular is more than a simple knit, the skirt has a pleated texture and the pattern combines pastels with ethnic motifs, a masterpiece. I wore it while searching for chic boutique cafes and restaurants and whilst admiring some local art paintings from Rethymno and the traditional Venetian inspired balconies.
The third outfit screams vacation and sea and this is why I chose to wear in in Chania, the capital of Crete and also in its famous Venetian Port. I kept everything in the blue nautical style and chose this navy sweater with white details matched with a wrap blue skirt. I love how this style can be worn also while strolling the busy streets and also for a walk on the beach.
I was wearing:
Ist outfit:
Stefanel purple blazer
Stefanel white linen pants
IInd outfit:
Stefanel knit top
Stefanel pleated knit skirt
IIIrd outfit:
Stefanel navy sweater
Stefanel blue wrap skirt