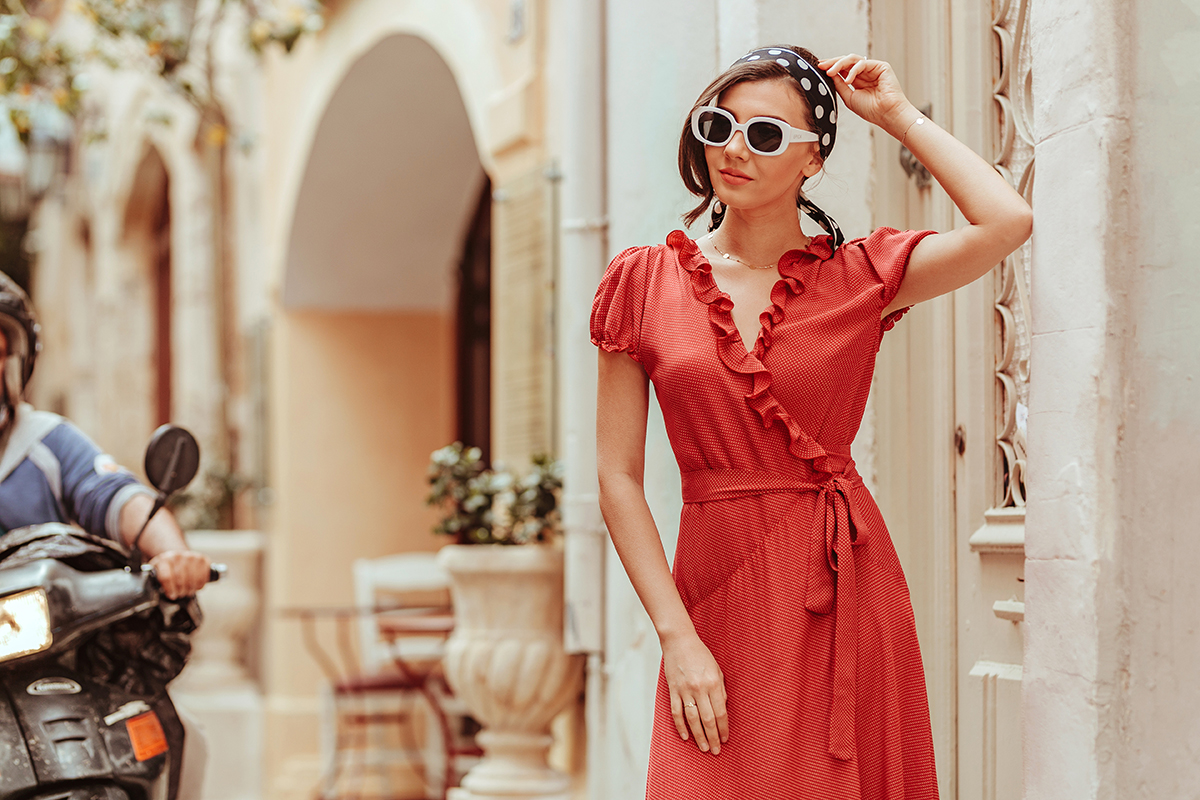 Ciao babes! Since we were staying at Veneto Boutique Hotel I thought that a little Italian inspo wouldn't hurt anybody, also since this amazing La Maison de Confiance dress was screaming Italy so loudly. So, one beautiful morning I thought I should put it on, do an up do to my hair and accessorize the whole look with retro sunnies and a scarf and have an espresso at the amazing Veneto Restaurant from Rethymno.
Our whole stay there was like turning back in time. The place is a lovely reminder of how beautiful the buildings used to be built. The rooms were extremely spacious and clean with lovely old restored pieces of furniture. My favourite place was though their little interior patio filled with big clay pots and flowers, that is also part of their restaurant and breakfast area. They have so many beautiful Italian details, an indoor fountain, the stone stairs, the pots with green plants, the Murano glass chandeliers, everything creating an intimate and lovely atmosphere. Oh and lets not forget about their old wine cellar filled with the most exquisite wines. It is truly an adventure to have a glass of wine at their restaurant and if you catch the owner around he will take you down there and explain more about the amazing building, the wines and the old well that is down there. So, if you are looking for a sensorial experience while in Crete you shouldn't miss Veneto and their exquisite stories.
You can also find a Greek designers' boutique there with so many traditional clothing pieces, scarfs, jewelry and also interior design art pieces. I fell in love with that olive tree decoration that you can use to hang in all of their beautiful jewelry pieces.
I was wearing:
La Maison de Confiance red polka dot dress
H&M scarf
Tezyo Epica sunnies
Kurt Geiger nude stilettos
Location: Veneto Boutique Hotel Rethymno and surroundings