During this trip to Provence we've picked up the most magical guest houses to stay in and La Grande Lauzade was an absolute favourite. If you check the pictures, you'll see for yourself why. But first, let me tell what has impressed me the most. First of all the story of this old establishment, which used to be a church, but was demolished back in the days and the only thing that was left was the arch of the altar. A beautiful ruin that was the beginning of a new story, this beautiful house that can be your home in Provence for few days. The building is absolutely gorgeous and so is the pool and terrace where you will be serving breakfast next to other guests and the owners. It is a great way to meet new and interesting people that all have the same interest, having a happy life and traveling a lot. We loved this part of our stay at La Grande Lauzade and also the pool area is simply amazing, super relaxing with a gorgeous view to the vineyards and an old pine tree. They also have an indoor pool/jacuzzi. The covered pool is at the basement of the house, next to the old wine cellar and everything looks amazing. I'm sorry we didn't get some shots of that part of the house, because it was truly beautiful, but the dimmed lights were not coping with our camera. Nevertheless, it is a very relaxing area with a lot of wood and chill music, perfect for a rainy day.
The rooms and the whole house are very beautifully decorated, mixing a modern and vintage style. The kitchen area was also stunning. I know I keep repeating these adjectives, but it's true. They also have a gym and a very interesting 'room' located inside a school bus. It looked super cool and it has its own porch with a hot tub and comfy chairs, so it was difficult to choose whether we should stay there or in the house, but we chose a room in the attic, because the living room and kitchen area was too beautiful to miss while coming down from the room.
This place has inspired me to create a more bohemian look that matched the school bus perfectly giving me that Woodstock vibe. So, I chose this gorgeous jumpsuit by La Maison de Confiance which is great for this summer, super flowy, with a lovely print and in sweet pink. Loved the knot detail in the front and the long sleeves. Matched it with pink fringed accessories, some soft curls and it was perfect for a very hot July day.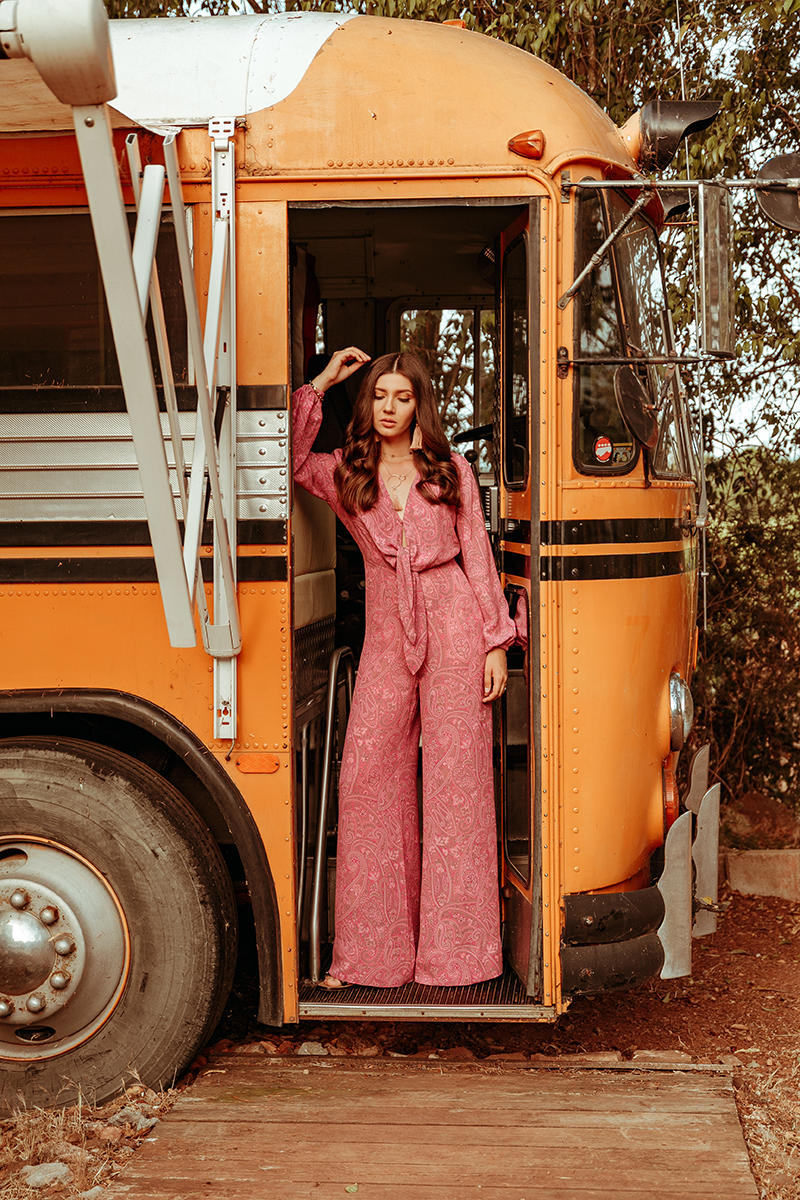 I was wearing:
La Maison de Confiance pink jumpsuit ( Ist outfit )
Primark knit dress & Peony Swimwear body ( IInd outfit )
Gorgeous location: La Grande Lauzade