As you all know fall is the season of layering and I love that we can finally give more dimension to out outfits. I thought it would be nice to show you what is on my fall-winter wish list and also share some offers with you.
First of all, I like seeing the trends and see what my wardrobe is missing and this is why I always have a list in my phone of  some pieces that I don't have in my closet and need to get ASAP. I also complete this list whenever I see a cute outfit that I like on Instagram or on Pinterest, but I don't have a certain item in order to recreated it. This way I stay more organized and whenever I see discount and offers on Shopbop I know exactly what to look for.
Secondly, I always check the styles they suggest on their first page, because they are always on top of everything with fashion directors or editors picks that have been or watched the Fashion Weeks closely. This gives me tons of inspiration for my outfits and both for my shootings.
And now you can make some smart shopping on Shopbop until the 16th of October by using the code FALL20 and get 15% discount on orders over 200$, 20% off on orders of 500$+ and 25% discount on orders that exceed 800$. This code applies to selected items, so check this section right here.
Now, with that being said I want to show you my favourites from their selection and also share with you some of the items that are on my notes.
I really love every winter and fall to wear knit dresses because this is the perfect way to stay warm and cute at the same time. Besides that it is super easy to compose an outfit with a knit dress, you just need a cool jacket and a good pair of boots and you're ready to go. Above this you can see the pictures of my fave ones.
I also love wearing floral print dresses with over the knee boots and faux fur jackets, but never know what to mix with what and this is why I like to scroll down through Shopbop's Fall Favourites section and get inspired.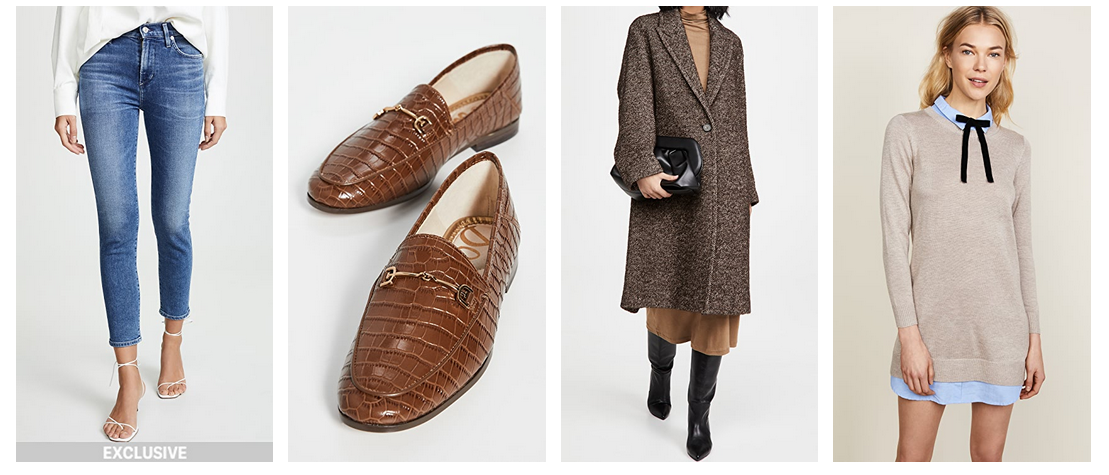 Preppy style is always best for fall, as many of us get back to school or back to work after summer holidays and it is that style that kinda makes you want to be more organized, more neat and even more determined to study or to stay productive at work.
Sweater weather is finally hear and now it doesn't have to be same old boring beiges over and over again. Shopbop has some Hit Knits that are to die for. You've never imagined that a sweater can be a statement piece in your outfit until you've seen their picks.
Best boots line-up is at Shopbop: from over the knee, ankle high and platform boots, they have them all. I am looking for the perfect pair of white booties that go along so well with fall dresses and also for some cool biker boots.
Now it's the perfect season to wear full leather looks and I never knew there are so many cool and interesting ways to shape leather into clothing. I must admit that a leather items was not on my list but seeing their Leather Looks really got me wishing.
Also, if you forgot the code that I've mentioned in the beginning, here it is again, you can use it on selected items, but they have so many wonderful pieces included in this Fall Event that I think you're going to find what you're looking for. Use the code FALL20 and get 15, 20 and 25% off.
Enjoy shopping!