This holiday season I came prepared in advance with a lot of looks prepared especially for you, to get inspired and see where you can shop the coolest items at the moment. After showing you my first suggestion for the NYE, I thought that I should prepare something for those of you who spent a lot of time at the office and still need to look cute and chic. Office & More Fashion is an online store that can help you be fashionable everyday at your work with really high quality materials and cuts that can be personalized for your sizes and type of body. You can also choose from various colours available for the super out of the box office wear. I chose three looks for different occasions, but all related to that office chic style.
The first one is for a regular day at the office but for when you want to look other that regular. The shirt with blue fine lines is super serious and the fabric is one of those that can be ironed perfectly, giving you that polished look, but the sleeves add that wow effect, super fashionable and fun at the same time. I have paired the shirt with some beige faux leather culottes. I just love the cut of these pants and the pockets are always welcome when you don't want to keep your badge tied to your neck, ruining the whole outfit, right? I wore this look with fishnet tights for a more cool effect and added a fur pom pom to my bag for a bit of colour.
The second look is also special with a striped white dress with ruffled sleeves. This is that one dress that makes you look professional but also elegant and you wear it when you know you're gonna get a promotion, it's your birthday and you celebrate it with your office colleagues or when you simply want to look smashing but also ready for important meetings at the office.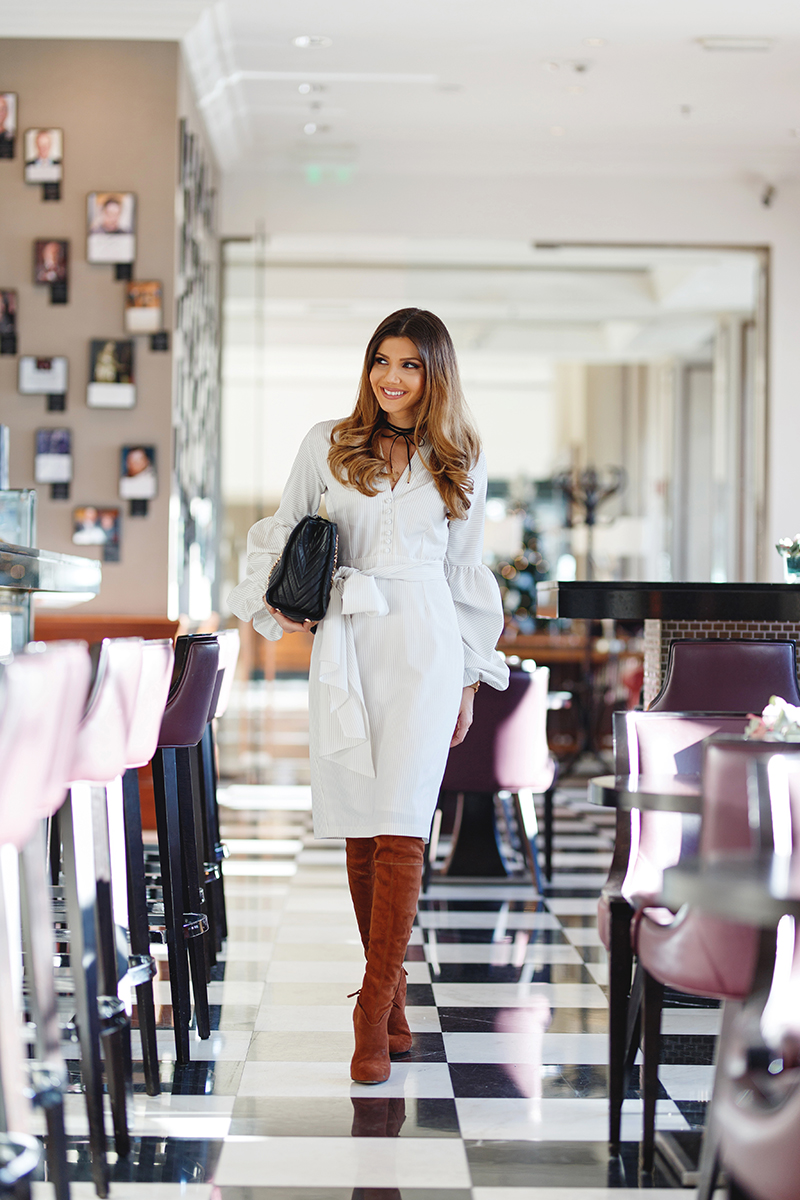 Now comes the fun part. Who said that you have to wear dark clothes or boring at your office Christmas party?! Whether you spent it at the office or at a fancy restaurant, you must always look good and Office & More Fashion is there for you with a lovely selection of party dresses that are also suitable for office parties, when you want to look elegant, but not too revealing, because you have an image to keep. I chose this very feminine one in dusted pink and mint print with a very special cut that made me feel like a princess.
Well, now you also know where to find the most beautiful office wear, for busy days, special ones or parties with the colleagues and they even offer you image consultancy, so you better check out Office & More Fashion's Facebook page or simply call  0726607330 . The items take till 7 days to be custom make, with the measures and preferences you require.
I was wearing:
Look I
Office & More Fashion blue shirt with bell sleves
Office & More Fashion beige faux leather culottes
Calzedonia fishnet tights
Kurt Geiger black stilettos
Kurt Geiger black croc bag
Concept 15 fur bag bug
Look II
Office & More Fashion white and black striped dress
Jessica Buurman boots
Anna Cori quilted bag
Kapten & Son watch
Shein choker
Look III
Office & More Fashion brocade elegant dress
Steve Madden silver sandals
Shein pink choker
Interior location: Athenee Palace Hilton