Although life has picked for me being a city girl, I realize more and more that I am a countryside girl at heart. Each time we go to my grandmas', both me and Adrian like helping in the garden and the hard work doesn't bother, but pleases both of us. As, I told you before I think there is no place more beautiful than nature and this is why I love seeing its different forms in different places on Earth.
During this trip to Italy I have discovered an amazing place, Masseria Il Frantoio that does just that, protects and cultivates olive trees next to Ostuni and allows tourists to enjoy this experience at its best. This was the last place we've stayed in during this trip to Puglia and what a perfect ending for this journey. We've arrived in the afternoon and enjoyed an Aperol Stritz in their courtyard and after that took a long ride through the amazing olive tree farm they have there. It was such a relaxing feeling and I loved the fresh air that was surrounded us. The pool is also super nice, located between the olive trees, some of the oldest in the region. The house is also amazing, really old with so many amazing vintage pieces of furniture, books and even a chapel. Yes a chapel! We have stayed in the room above the chapel where they have the bell and a little terrace covered in glass, simply pittoresque.
After playing around for hours in their garden, we went for dinner and we've had a big and delicious surprise in there. The menu itself was a surprise and I've just mentioned that I don't eat fish and they took care of the rest. I am being completely honest telling you that I haven't tasted better Italian food than at Masseria Il Frantoio and everything about that dinner has charmed me. The way the table was set, the quiet ambiental music, the way they've presented each meal course and also the wine that matched perfectly with each one. I ate so much that I could roll myself to the room, but couldn't help myself finishing each course they've brought. We ate 6 meal courses and then desert. :)) We were full, but happy. It was an amazing experience and can't wait to go back and enjoy more of that heavenly place. I truly recommend it to all of you!
During that day I wore a simple, but from a natural fabric dress, just like this place. It is from Chicwish and it's is perfect for summer, chic, comfortable and let's your skin breathe. I have matched both with high heels and also with my handmade straw slippers for a walk through the olive garden.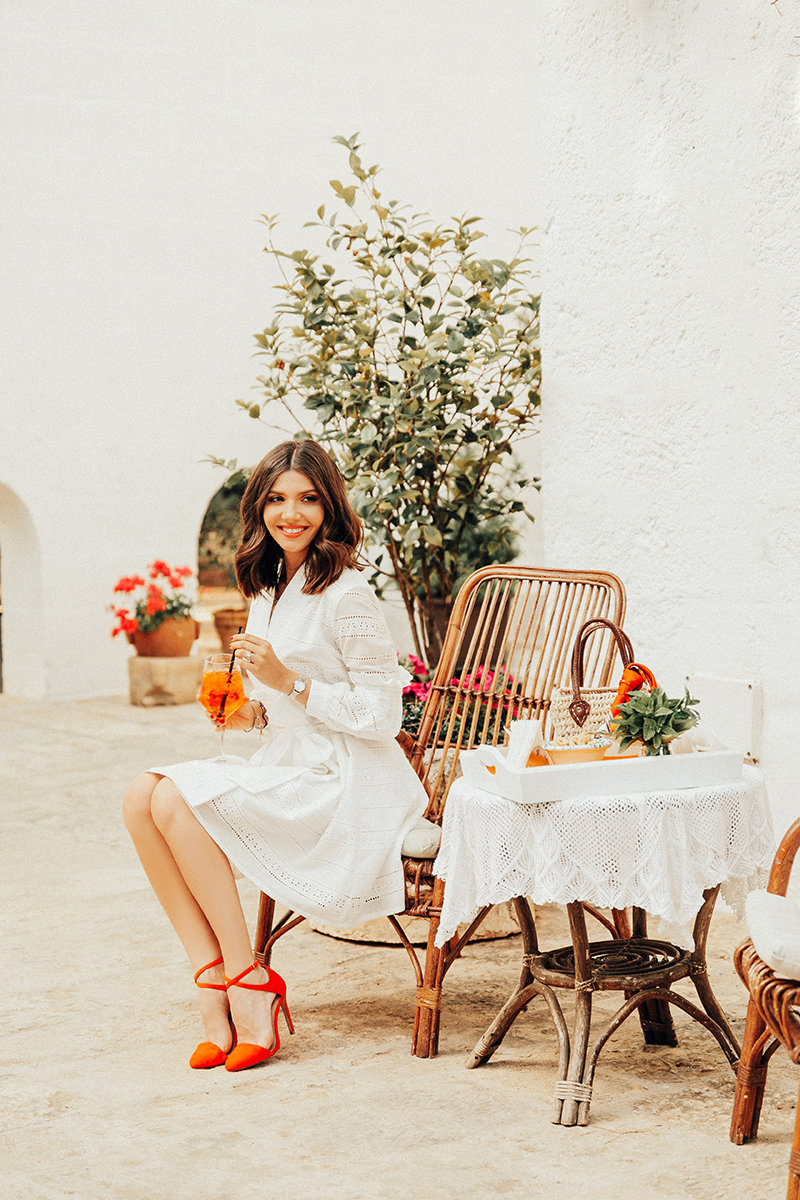 I was wearing:
Chicwish white eyelet dress
Zara orange heels
Handmade straw slippers
Handmade straw bag
Asos straw hat
Thanks to Masseria Il Frantoio for having us and for the best countryside Italian experience ever!