As I woke up this morning I've opened my blog and read the article I wrote on this same day last year. I wanted to see what I was thinking that day. Mostly, I wrote about how I am taking the holidays easy and don't overcook and prepare gifts and that I'm trying to spend more time with the loved ones. This hasn't changed much and this year it was the same for me. I didn't rush to the store in attempt to load on gifts and cooked what we normally cook, except for some cookies. I think it is easy to get caught up in the 'Cristmas spirit' that has been forced on us at the TV, in the stores and even in social media, but for me it's a day like any other day, a bit more special I would say because we gather all of our little family together. But as always I'm trying to enjoy it in peace without too much fuss and without tiring myself cooking and decorating a tree. Even to this day I don't know the significance of the Christmas tree. Maybe one day when I will have a kid, maybe for his sake I will decorate one, but until then I am more than happy with our traditional photoshoot with Lilebuba as they prepare the lovelies deco every year and it is enough for us.
Last year I also wrote that I was hoping that in 2019 we will move to our new apartment. We did that this late fall and I am very happy about it and what I didn't know last year at the end was that 2019 will start in the most awful way possible. It was by far the most challenging year of my life until now, but I am grateful that by the end it got chiller and things sorted out. Hopefully it will remain like this and even though I am not religious, I am praying for the good health of my family and it touches me deeply whenever I hear someone is sick or struggling trough life. So, this Christmas I am again grateful for having what I have, maybe even more than ever and I wish everyone peace and health. Merry Christmas and don't forget that the best present is your family! Enjoy every moment with them!
PS: For this lovely photoshoot I was wearing a lovely Chicwish full outfit. I love the blush pink colour of this sweater, but also the cut. This is why I have it in camel as well. It is so cozy and looks super good worn with skirts, tucked in the front. The skirt is also from Chicwish, it is made out of tulle and maybe what you don't see at first sight is that it has some lovely pearl details underneath the first layer of tulle, super delicate and feminine. I love it!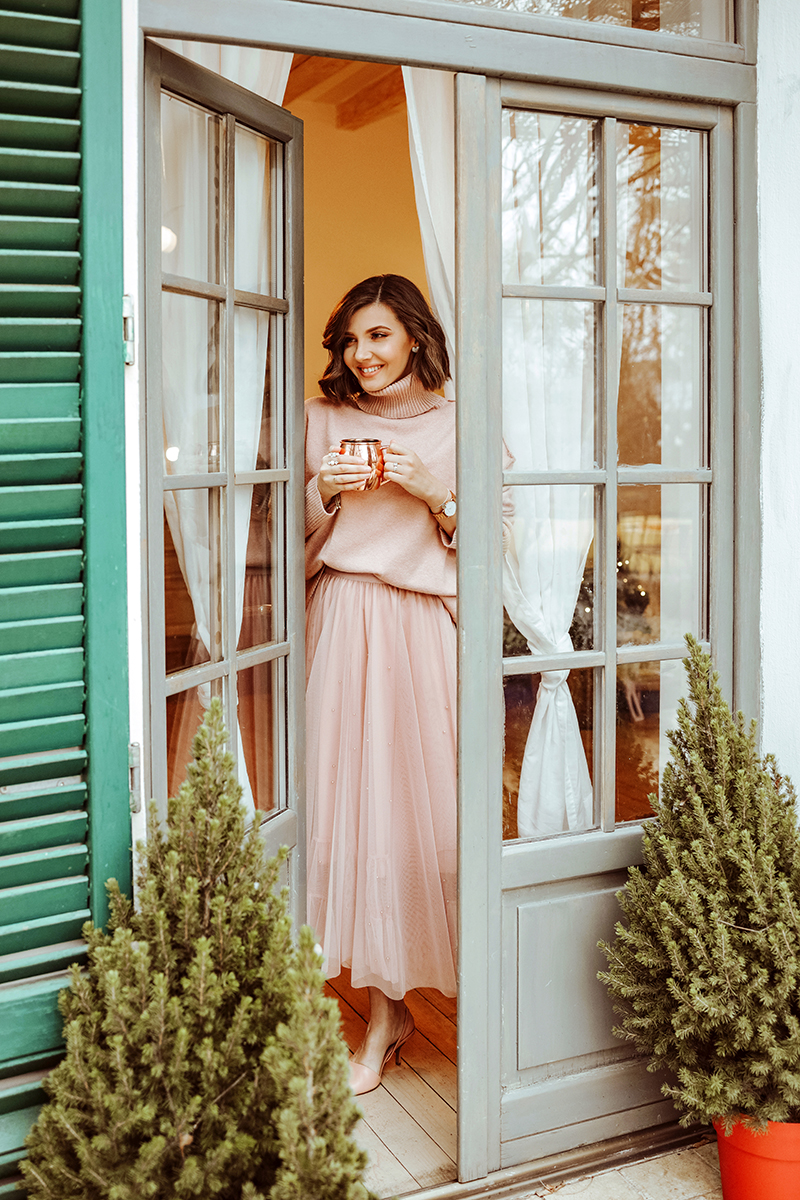 I was wearing:
Chicwish pink sweater
Chicwish pink tulle skirt
Diane von Furstenberg shoes