A doua noastra oprire in Maroc a fost in capitala, in Rabat si stiu ca genul acesta de postari sunt foarte utile pentru voi, asa ca vreau sa includ cat mai multe detalii despre unde am stat, ce am mancat si ce am vizitat. Riad-ul nostru in Rabat era localizat in centru orasului vechi, in Medina, foarte aproape de Rue Souika, ce este plina de comercianti cu tot felul de ceainice, condimente si multe alte lucrusoare handmade cu specific marocan. Trebuie sa recunosc ca preturile sunt mult mai mici decat in Marrakech. Va puteti gasi geanta perfecta de paie pentru vara aceasta sau cel mai dragut ceainic din care sa va beti ceaiul de menta.
De pe terasa Riadului nostru, Souika aveam cea mai draguta priveliste catre apus si Moscheea din zona. Camera noastra era extrem de spatioasa si cu o lumina linistitoare de la ferestrele cu vitralii. Acolo am gustat unul din cele mai bune ceaiuri de menta cu flori de portocal. Daca nu stiti ce aroma au florile de portocal, trebuie sa le incercati pentru ca sunt foarte aromate si dulci si snt similare cu florile de iasomie. Micul dejul a fost de asemenea delicios cu clatite marocane, preferatele mele. Curtea interioara este un vis frumos, iar pozele facute cu rochia alba sunt doar in interiorul Riadului, iar cele cu cea visinie pe strazile din apropiere.
Am purtat doua rochii superbe, perfecte pentru sezonul nuntilor ce se apropie, de la Ever Pretty. Cea alba este perfecta si ca rochie de mireasa, insa si pentru o petrecere in gradina. Imi plac mult volanele ce ii dau un aer Spaniol. Rochia visinie este potrivita pentru o invitata, iar detaliul cu peplum este foarte dragut si ascunde foarte bine burtica, daca o aveti. 😛 Imi place mult cum s-au potrivit in acest fundal oriental din Rabat.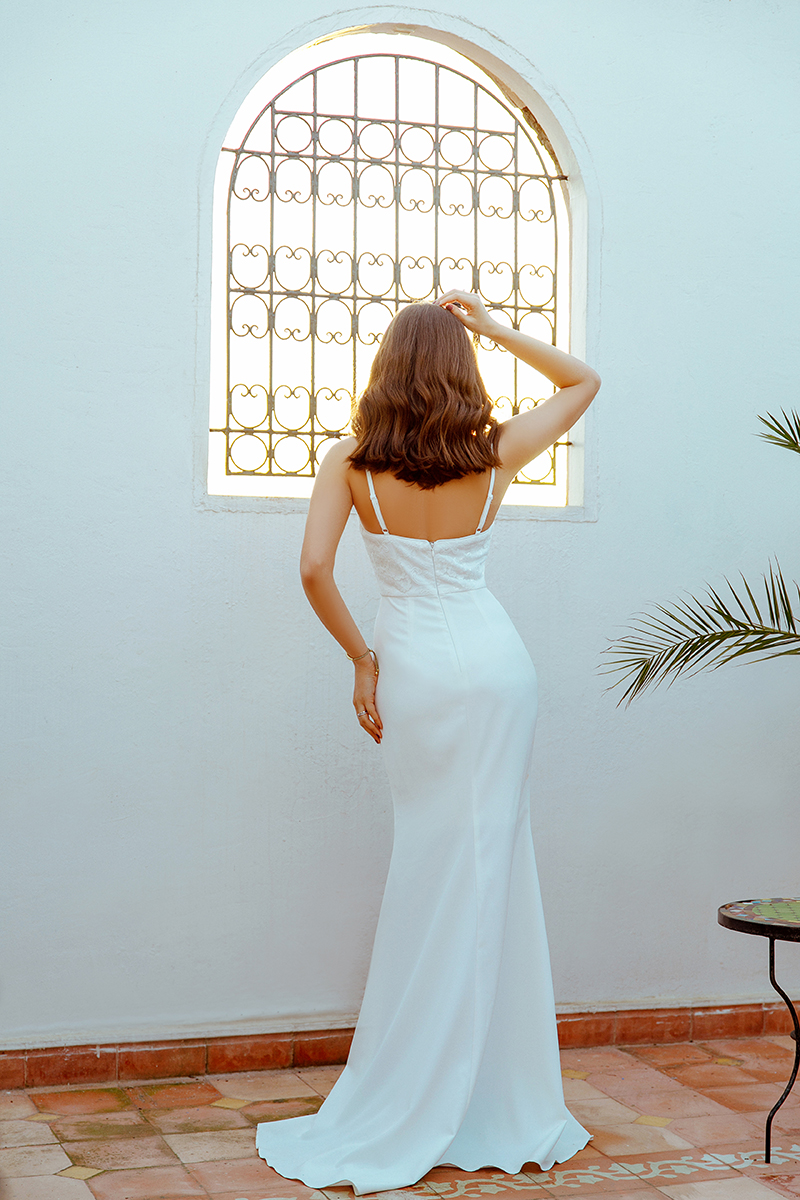 I was wearing:
Ever Pretty white ruffled dress
Ever Pretty dark red dress with peplum detail
Thank you for the warm welcome, Riad Souika!