De-a lungul timpului primim adesea intrebarea: 'Cum v-ati cunoscut?' si azi vreau sa va raspund tuturor si sa impart cu voi povestea noastra.
Acum mai bine de 7 ani am fost chemata la un casting de catre un regizor de videoclipuri cu care mai lucrasem anterior si am acceptat. Insa in ziua castingului incepuse un viscol teribil si m-am razgandit. Am mers la cursuri la Universitate si am decis ca nu voi mai merge la casting, insa in timpul cursului am primit numeroase apeluri de la regizor, rugandu-ma sa merg la casting. Am cedat insistentelor si am plecat de la curs, invocand ca nu ma simt bine. Era teribil de urat afara si frig si tocmai de aceea eram imbracata foarte gros, cat mai comod si eram nemachiata, deloc pregatita pentru un casting. Insa am mers si cand am ajuns acolo am vazut trei pusti ce formau o trupa, printre care si Adi. Mi s-a parut foarte amuzant cum au stat ei trei si s-au uitat lamine in timp ce am dat eu proba, ce consta in a face playback pe una din piesele lor in fata camerei. Surprinzator am luat castingul si dupa ne-am mai vazut la filmarile clipului. Acolo trebuia sa am o scena cu colegul lui Adi de trupa, insa fiindca am refuzat sa ies dintr-o cada umpluta cu cola intr-un maieu stramt, alb, am schimbat rolul cu unul mai romantic alaturi de Adi, unde ne cantam unul altuia. 😛 Restul e istorie!:)) Am ramas si acum fata lui din videoclip.
Ne-am casatorit acum 4 ani intr-o zi cu soare de iunie si anul acesta ne-am sarbatorit aniversarea in Cappadocia la peste 1000m altitudine in primul nostru zbor cu balonul cu aer cald. Pentru a marca 4 ani de calatorit non stop impreuna, ne-am daruit unul altuia ceasuri asortate Henry London pe care am gravat un citat ce ne reprezinta perfect: 'Wherever we are together…that is home'. Este motto-ul nostru de cand petrecem mai mult pe drumuri decat acasa, pentru munca noastra cu blogul, dar si pentru ca asta este pasiunea si cea mai mare dorinta a noastra, sa vedem toata lumea impreuna.
Si pentru ca a fost primul nostru zbor cu balonul ai aveam ceva emotii, am cautat cea mai buna si sigura companie de zboruri din Cappadocia si atunci am gasit Royal Balloon pentru o experienta de neuitat. Pilotul a fost atat de amuzant incat am uitat de orice frica si am ras tot zborul. De asemenea intorcea mereu balonul astfel incat sa avem cel mai frumos peisaj pentru fotografiile noastre. La final am incheiat zborul cu un pahar de sampanie si asa am avut cea mai frumoasa aniversare ever. Va recomand cu incredere Royal Balloon pentru primul vostru zbor cu balonul si neaparat trebuie sa mergeti in Cappadocia cu o ocazie speciala pentru a avea acea amintire frumoasa pentru totdeauna!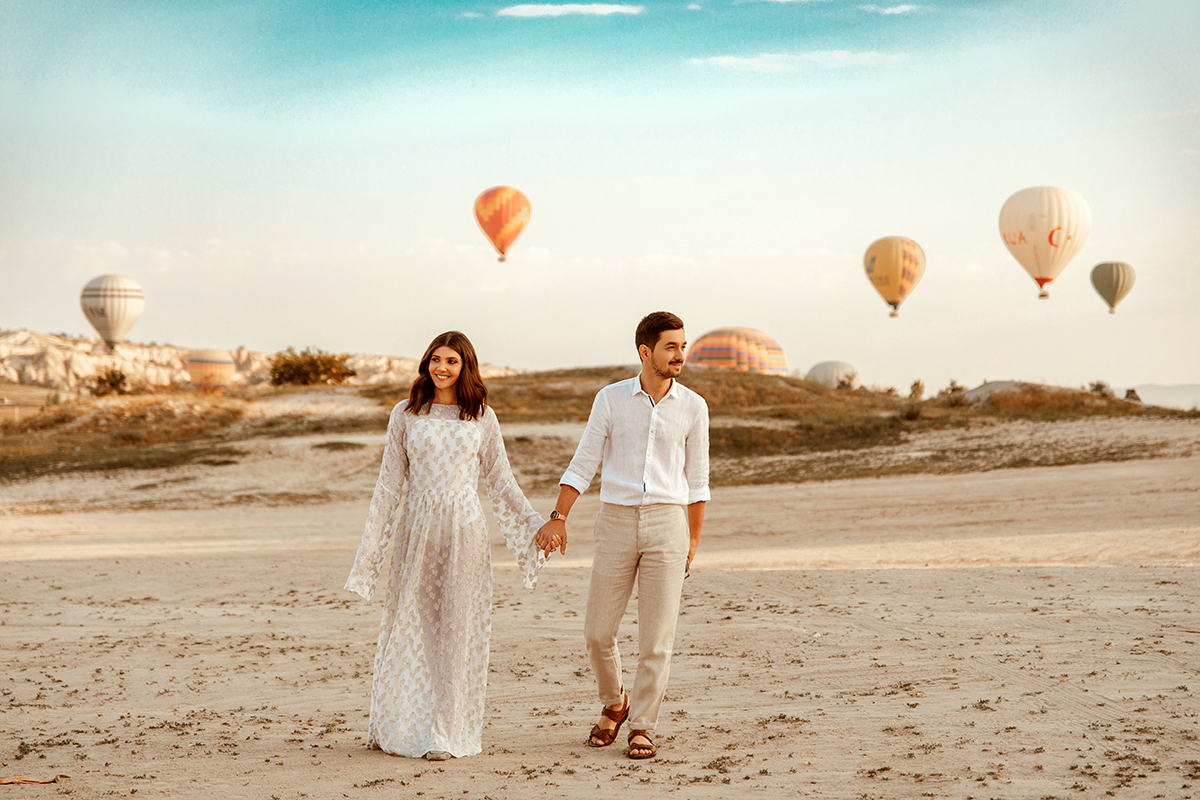 I was wearing:
NA-KD fashion dress (get it with 20% off with the code 'larisax20')
Zara straw bag
Henry London green strap square watch
Adrian was wearing:
Zara shirts
Zara pants
Henry London green dial watch
Thank you for the most unique hot air balloon flight, Royal Balloon!