This year hasn't been our best, but it definitely has had lots of fun moments and adventures away from home. We have spent 78 days away from home in 8 different countries and visited more than 50 cities and small towns all over Europe. We have traveled a lot, many may say, but we haven't seen even 10% of this wonderful world. My regret is that we haven't went further than Europe this year, but next year will be filled with bucket list places that I am dying over to see.
We have traveled almost every month and we have started this 2017 travel journey in late January, beginning of February when we went to Fuerteventura in the Canary Island to get away from the cold weather in Bucharest. We have stayed in Corralejo most of the time and rented a car and visited more places that we have found attractive around the island. We have rented an apartment in Oasis Papagayo that looked great and had a big pool and great garden.

One of the most amazing place on this island is Parque Natural de Corralejo, you have the road in front of you, on one side and on the other the most amazing sand dunes. The Port of Corralejo is also nice and it has a lot of good restaurants and tavernas with view to the ocean.
Next place, good for shopping was the capital of the island, Puerto del Rosario.
Another rustic and amazing little town is Betancuria, where you can visit the old church, the cactus plantations and little tavernas with great traditional food. Also the road to it is pretty nice and filled with old school 'molinas'.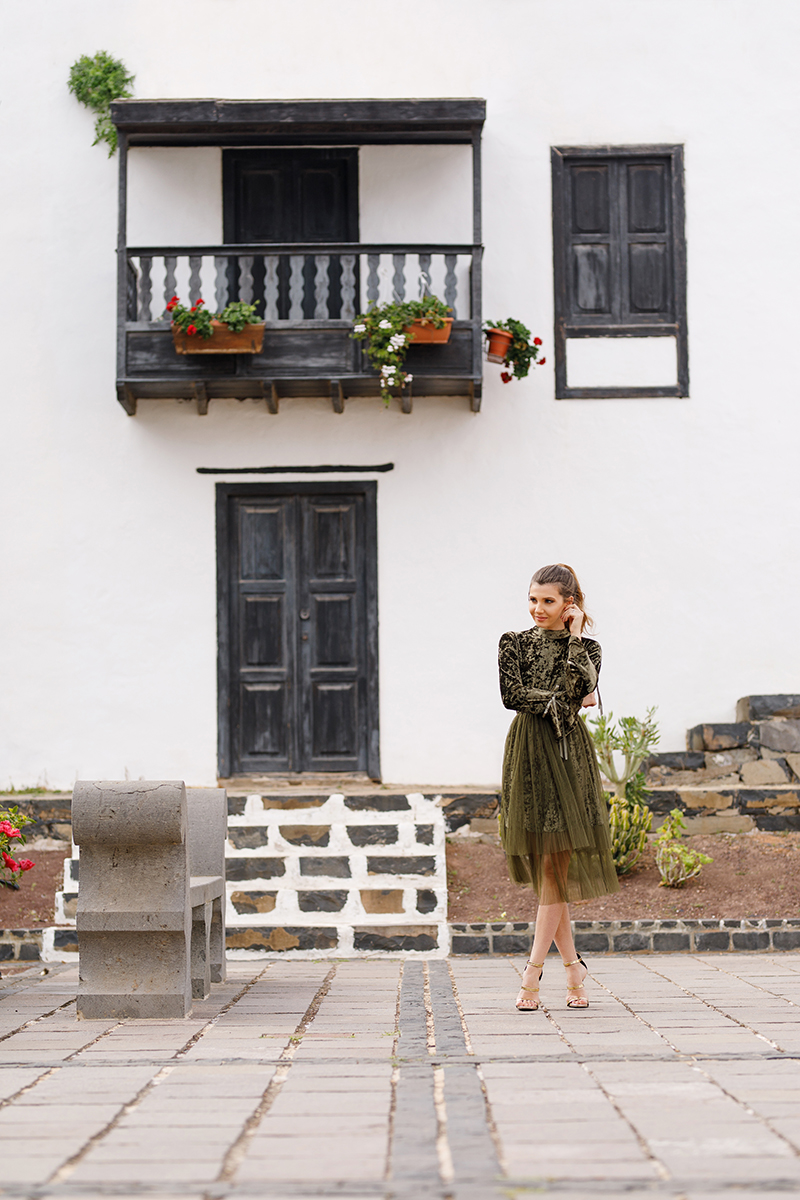 The best place for adventurous travelers, that we think we are is a really special place close to Lajares. It is so special and in the middle of nowhere that you cannot even find it on Google Maps and we went searching for it with a print screen from Pinterest asking everyone around. No one knew exactly where it was or how we could get there, but we've managed finding it with our little rental car (Payless, the cheapest there) that didn't have off road insurance. Once you get there, you see the magic of the Barranco Encantado or Barranco de los Enamorados. It is a great place for pictures, but still in the desert, so make sure to bring sandwiched and water with your if you go on this adventure. It is worth it, though!
Our next departure was at the beginning of March in the the South of Spain, in Andalucia. These 8 days were filled with shooting and filming and we felt truly sorry for my best friend that came with us and thought that she will have time to enjoy and relax. :)) Everything was fast forward and it kind of always is, because we want to see as many different places as we can in one single trip and film and take pictures in every single corner.
We have landed in Malaga where we have stayed one night and two days. Malaga is no new city for us, so we went to explore the center, the port and also the Mirador de Gibralfaro from where you get an amazing view over Malaga and Plaza de Toros de la Malagueta. (great to visit at sunset). Another beautiful place that I truly liked in Malaga was Parque Alameda, its auditorium and Plaza del Obispo.
Second stop of this travel was in Gibraltar where we have stayed also one night and visited the Rock of Gibraltar, the city center and the beach with the view to the big rock, Playa Santa Barbara or to be more specific, Playa Levante. Another place with a great view is Sandy Bay. From there you can take some nice shots from the stairs leading to the beach. While you're there you have to go to Europa Point as well and see the most southern point of continental Europe. It has a great feeling of freedom and discovery seeing how this continent ends and glimpsing Africa offshore.

We went next to Cadiz and got there in time for the carnival (12 March), so everything was beautifuly decorated in the city center. We have watched the flamenco dancers on the streets, people singing in funny costumes and ate sea food from the streets. It was quite an amazing day.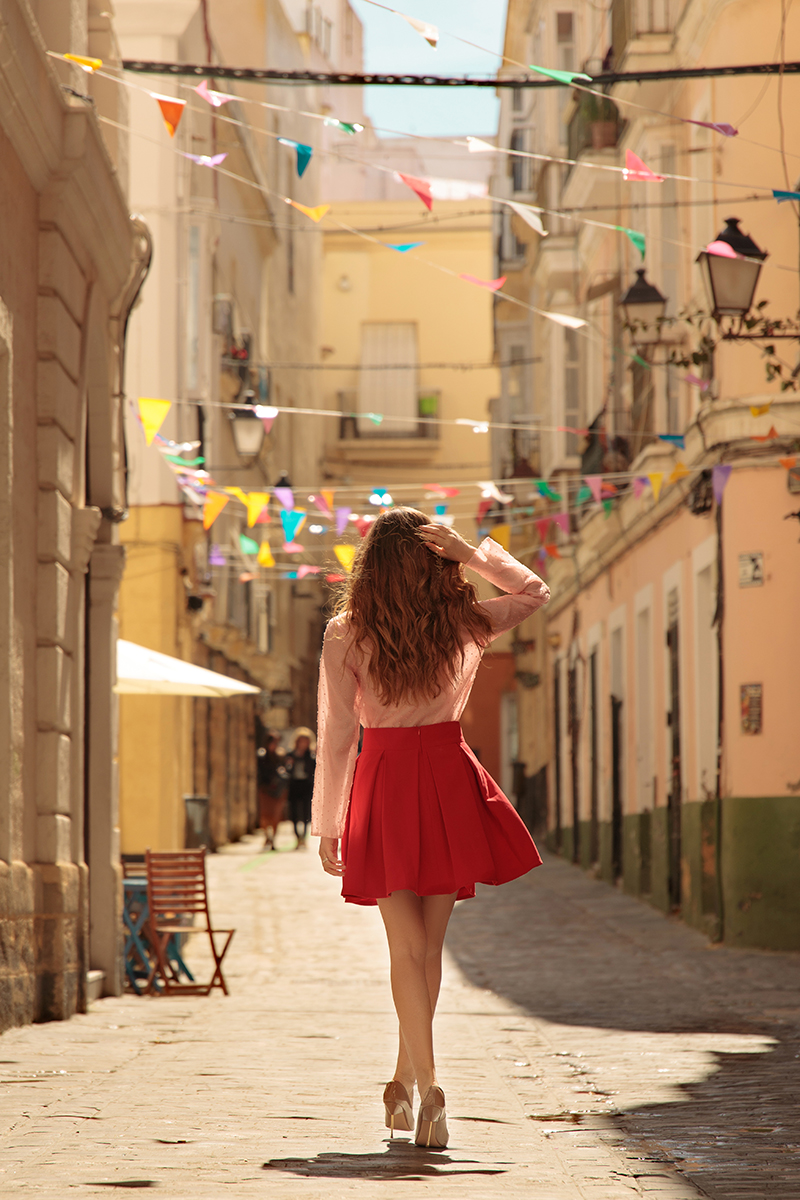 Sevilla was definitely the biggest and the most beautiful city we have visited in this trip, but unfortunately it was raining for a day and a half and didn't get to see all its beautiful places. We have stayed there 3 days and managed to see Plaza de Espana which was amazing and grandiose, very instagramable. We have stayed at Hotel Alcoba del Rey and enjoyed some serious terrace goals with evenings spent in the hot tub eating pizza and champagne. Another beautiful place that you must see while in Sevilla is Maria Luisa Park, preferably when it is not raining, like we did. :)) You don't have to miss La Giralda, neither. It is the big tower of Seville's Cathedral and it reminds me so much of Marrakech.
It is amazing how nature can create such amazing artistic places and a very special place but quite unknown is Rio Tinto and how it transforms itself while crossing an iron mine. It was the most spectacular river I have ever seen and the pictures below will convince you to visit it next year. It is close to Sevilla, but really difficult to find. It doesn't show where the river starts to get rusty on Google Maps and this is why it was difficult to find. We have asked from village to village and finally found it. It is really close to Berrocal, so if you get there, you must ask the locals and they will definitely help you find this gem. It is better to have a picture saved in your phone with this place, as it will be kind of difficult to explain them in Spanish what are you searching for.
Our last stop from this trip was the amazing Ronda that we have visited for the  most spectacular bridge in Spain and maybe Europe, Puente Nuevo that has 120m dept. Ronda is a really small town, but with a beautiful city center and an amazing view to the amazing Puente Nuevo.

Our next wanderlust location this year was Mykonos in May, which was kind of perfect and not too crowded, just before the season started. Mykonos Town is one of the dreamiest locations I have ever seen and although many people would say that it doesn't compare to the views in Santorini, I liked  this city more and it was great for blog pictures. I liked it so much, that it inspired me decorate my terrace for my birthday with the same colours and traditional white and stone floors. We have had some amazing sunsets as well, thanks to our amazing hotel, Bill and Coo and their amazing infinity pool. While in Mykonos Town you shouldn't miss the windmills nor Little Venice.
We have seen also Elia, that was amazing thanks to their beach and the Mykonian Imperial Hotel. It looked amazing and it had one of the best views over the sunset.
Kalafatis is also nice and we have stayed at Iros Boutique Hotel, which is nice if you are looking for some relaxing time or if you are traveling with kids. They have great apartments and little houses that you can rent and then enjoy their full complex with pool and a beautiful garden.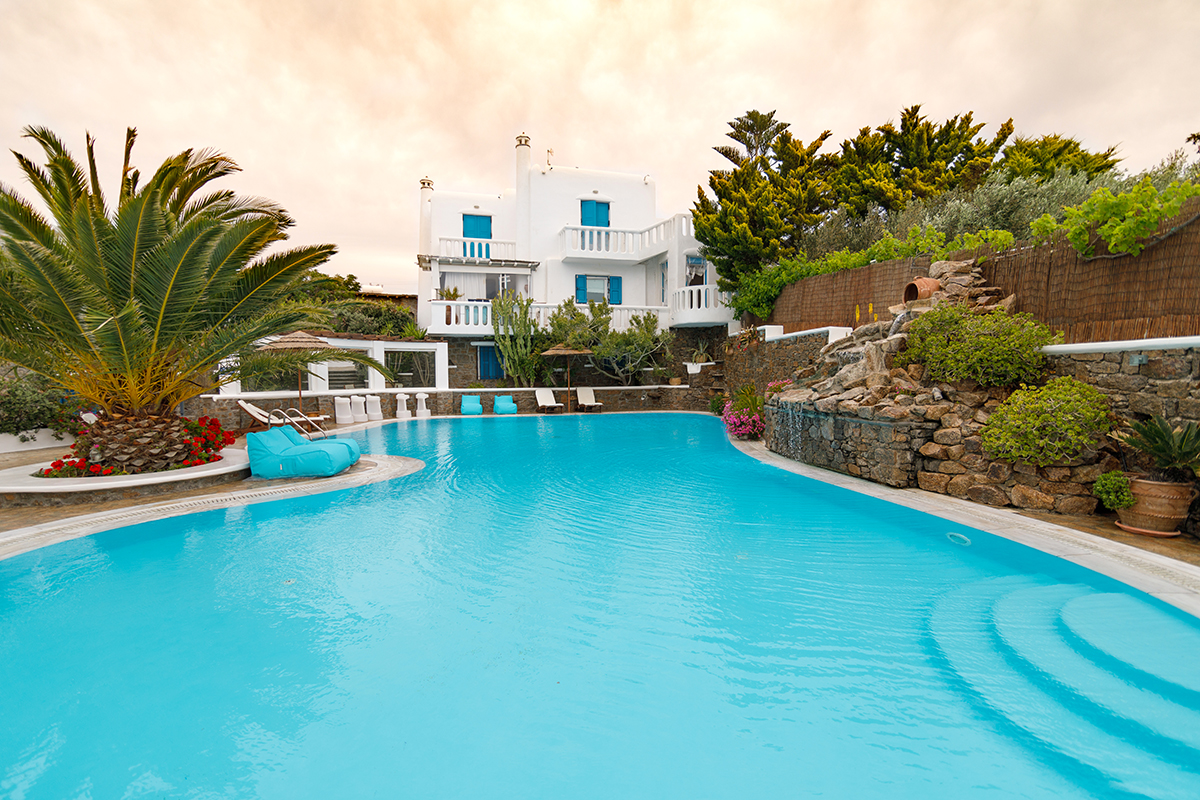 After my birthday party in June, Adrian decided to surprise me with a different destination. Somewhere I have never been to, so we went to Denmark, Copenhagen and spent there 6 beautiful interesting days. I must say that I wasn't very excited for this trip at first, but after seeing the center of Copenhagen and how beautiful were all its buildings I fell in love with this city. The only downside of this city is that it is quite cold for June, so you have to take some warm cozy clothes with you. We have had some sunny days, of course, but in the evening it got pretty chilly. In Copenhagen we have had the worst Air Bnb experience one day, where we tried to rent a room right in the city center, on Skindergade 42, so never go there at the last floor. :)) Luckily we have solved the problem and didn't stay there during the night and this is why we went one night in Malmo.
So, if you are in Copenhagen and if you saw Nyhavn, Tivoli Gardens and all the touristy places, you can easily go to Malmo for one night or few hours and see a bit of Sweeden as well in your trip. We have stayed in Copenhagen at The Square Hotel and Andersen Boutique, both close to the city center and with great views. Loved also the matcha discovery I have made at Matcha Mike, most delish ever and Dalle Valle's happy hour made me happy for the next 3 days.
In July we have had the most beautiful summer vacation, together with 2 of our dear friends, Corinao and Danielao. :)) We have started our Portuguese adventure in Setubal, a wonderful city close to Lisbon and stayed there one night. We got to see it's center and colourful recycled plastic decorations that made it the most joyful city in that area. Love the city art on the walls and also a great beach near by, called Figueirinha and the road to it is filled with great wild beaches and amazing cliffs.
We left Setubal for Vila Lara, where we have spent the next three days, we have stayed at an Air Bnb house rental in a complex called Villa Senhora da Rocha, where we have had a great beach, pool and view to the ocean, but we have visited many places nearby while we have stayed there.
The most beautiful in my opinion was Lagos, loved the city and also a place near by called Ponta Da Piedade. It has great high cliffs with amazing view and also there is a beach near by called Praia do Camilho that you must see. Careful, because of the cliffs the sun sets earlier there, so after 5 o'clock you can't really enjoy the sun there.
Next must see place is the Benagil cave and little beach. You can go there only by boat and I advise you rent a tour till there as it is safer than going alone.The currents are pretty strong out there. The beach near by that looks super dreamy is called Praia da Marinha and I definitely recommend that to you.
For touristy shopping and a lot of clubs you have to go to Albufeira. Althogh I didn't enjoy the clubbing area, I liked the souvenir little shops and found myself there a gorgeous straw bag made in Portugal.In there we have found also the cutest little shell house and an amazing bougainvillea.
We have went to Vilamoura next and in there we didn't quite visited the premises and we have stayed strictly in our complex called Longevity Cegonha Country Club. It looked pretty amazing, so we have stayed there for that night and the next day and enjoyed some chill time at the pool with our friends.

Next on our list was Faro and we have stayed there at Faro Hotel where we have had the best view. The city was quite calm as we got there on Sunday. We went out to eat some Indian food near by and then couldn't move the entire evening.:)) The next day we went on a ride with the catamaran from the hotel and got some tan while there.
After Faro we went to Tavira and the best part of this place was the ranch we have stayed in. We have spent two amazing days at Quinta dos Perfumes, which was just that a blissful place smelling like fresh oranges, with a great orange plantation and an amazing modern ranch. These days were super relaxing and we have loved every second of our time spent there.
And since we have chilled quite a bit there, we went to the big and crowded Lisbon after that. This city is an amalgam of tastes, music, shopping and culture and loved the next three days spent there. We have stayed at Otilia Hotel Apartments on Rua Augusta, my favourite street in Lisbon. In there no one sleeps at night, they just sing and dance on the streets. While in Lisbon you must visit the Funicular in Bica and take some Instagram pictures while there and eat some Amorino rose shaped ice cream.
Rua Nova Do Carvalho – Found this beautiful place while wandering the streets of Lisbon and love how all these colours combined together. Went in the evening to see if we can shoot my outfit there, but the light wasn't that good and it was filled with people and this is why we have returned the next morning.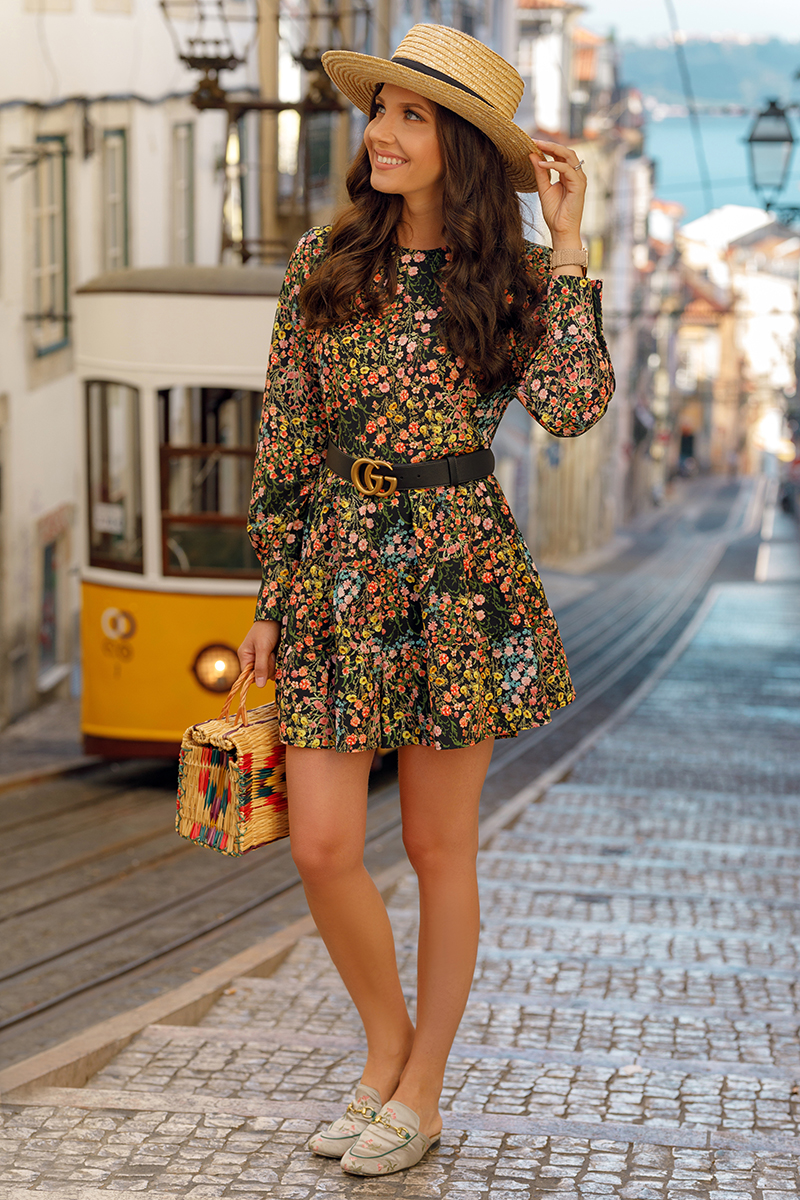 Pena Palace is like no other place I have seen before. It is near the city of Sintra, a gorgeous mountain city and the road to it is really beautiful and challenging. Once you make it to the top of the mountain, a really beautiful view over Sintra takes your breath away and when you look up, you see this immensity of a castle that looks like it has been taken out of a fairy tale. It is designed in the exotic style of the Romanticism and it has major Islamic influences. It is divided into 4 different areas, all so beautiful and unique. It is one of the 7 wonders of Portugal and I could say in the top ten most beautiful places in the world. I was charmed by this place and would definitely go back to explore each side of it. When you leave Pena Palace you can chill at a beautiful beach near by in Estoril, called Praia do Tamariz.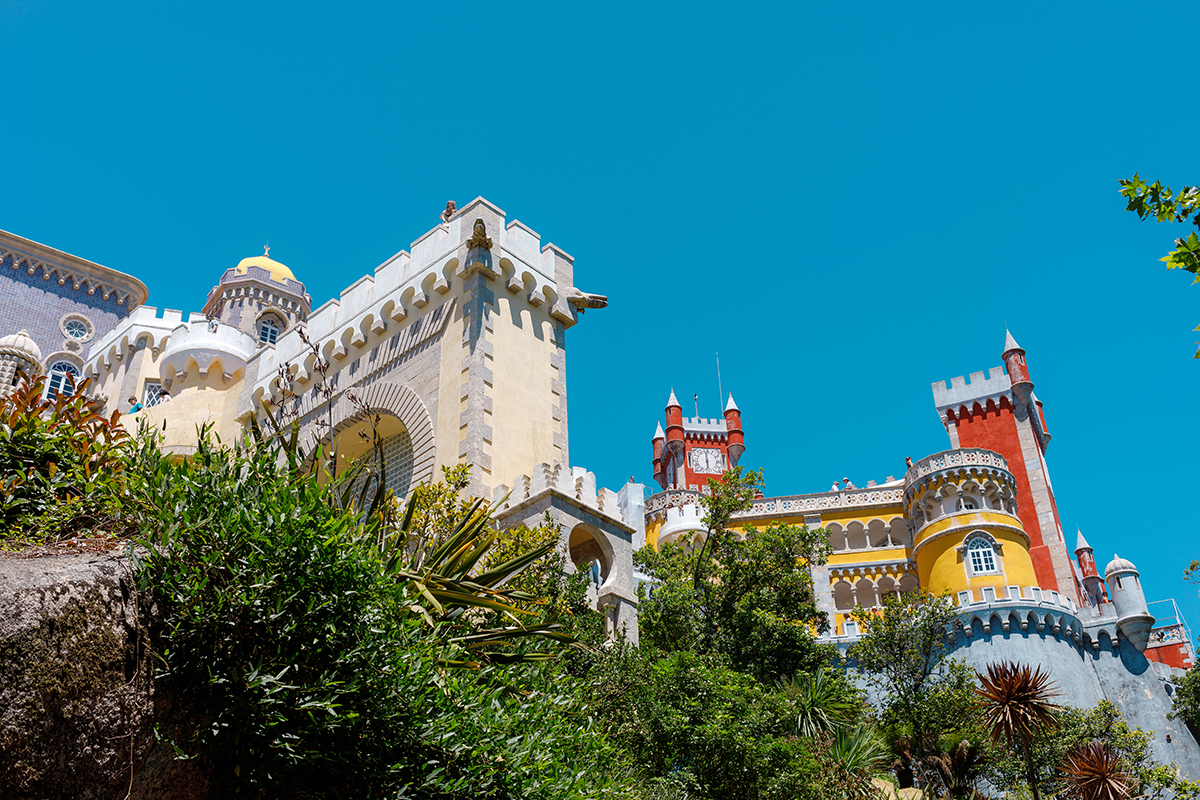 Our first stop from this new adventure was in Sighisoara, a city that has completely stolen my heart this late August. Haven't been there before and it completely blew my mind away. Everything was so beautiful that I kind of had tears in my eyes thinking this is part of Romania. We have stayed at Dominic Boutique on Tamplarilor Street that is located in the second oldest house in Sighisoara. The place is amazing and so cozy, filled with Romanian old furniture that the owner has collected over the years. Every corner seems to tell a story and you'd think that such old stuff are not useful anymore, but I was amazed how an old wooden bowl is now a very practical kitchen sink. The place has one bedroom, a kitchen, bathroom and a lobby with a extendible couch and it can easily host from 2 to 4 people. Loved that from the bedroom you can enter a secret cellar, that kind of leads you to the mystic atmosphere of the medieval Sighisoara.
This street, the street of the Carpenters is the most colorful and it reminds me of Burano Island from Venice, but without the channels and a bit more medieval. The city center was one step away from Dominic Boutique and there you could see the Clock Tower and the house where Dracula was born. I also love the wooden stairs that led to the church from the hill and also the great cemetery behind it. Although a cemetery should be something spooky, everything there looked so calm and peaceful, that I wanted to have a book with me to stay on a bench there and read it. The leaves just started to fall out from the trees, so everything was so idyllic and romantic.
If you are planning on visiting Romania, I think Sighisoara is the right place to start with, especially during this time of the year. I love that every year and season I fall in love with a different place and I am glad that this time I am so hooked up with our beautiful country, especially during the 'so rich' autumn.
Just few kilometers away from Sighisoara there is a small village called Cloasterf, it is so unique and rare as its name. Didn't think that I could like a place at the countryside so much, but Dominique Boutique really overcame my expectations.
It is amazing how beautiful are the traditions, architecture and nature in this part of the country and how a talented person can keep them alive for the next generations to come. This place has helped me relax a lot and it felt like time paused for a second there. Needless to say that I fell in love with all the traditional vintage furniture and the innovative way they have used it. The little brick houses looked like they were taken out of a fairy tale, gingerbread houses, I've named them. The most amazing part was the big venue where in the past they would usually keep the animals and the grains but is now a leisure kind of place with beautiful vintage objects well preserved. This place could easily host a small wedding or a more atypical party and would love to come back here for some events. Also, I think this place is even more dreamy in the winter, imagine all these pretty little houses covered in puffy immaculate snow. <3
September was the month of Italy, my crush country in the World, that never seizes to amaze me. We went first to Venice and even though it was my third time there, this place blows my mind every time. We were staying at the Centurion Palace with a view towards the Grand Canal. It is a great pleasure to return there every time and it feels like home away from home. A more fancy and special home, but nevertheless a home where I feel spoiled. My second home there is at  Palazzo Sant' Angelo. The view to Rialto is just everything and the classic Venetian interior just makes me feel in my element.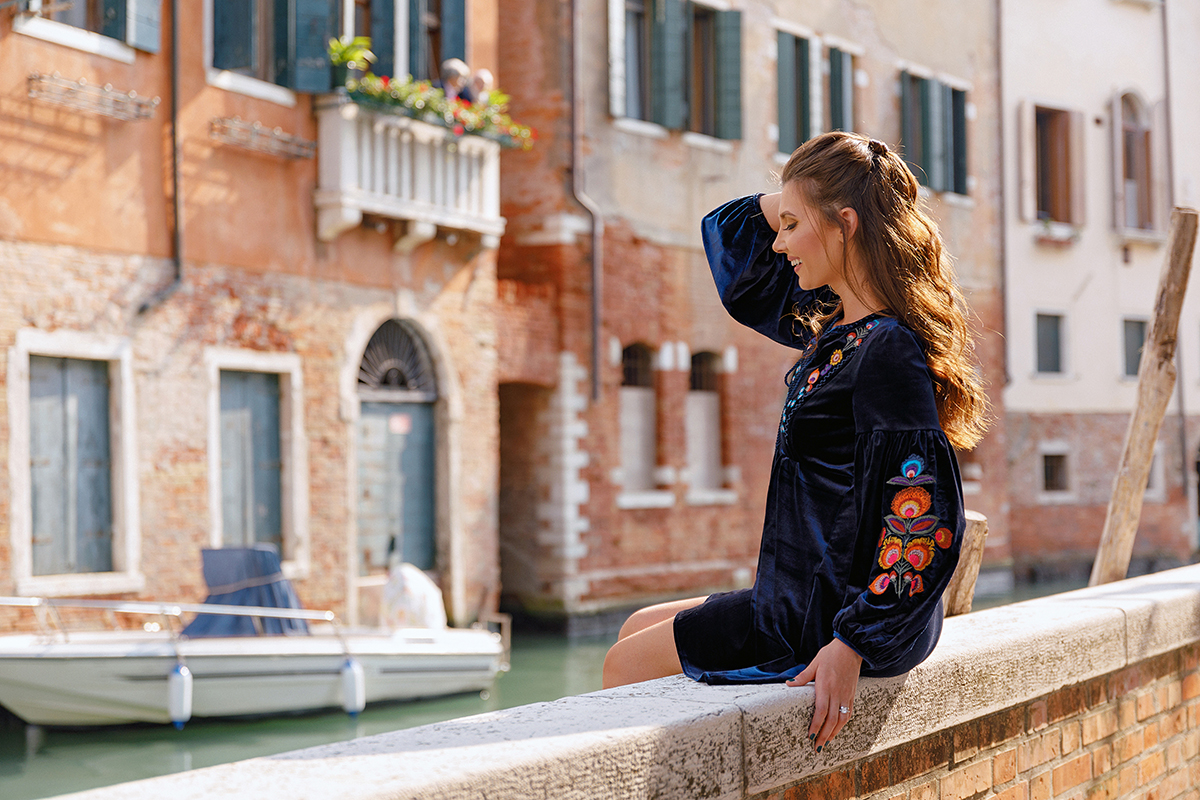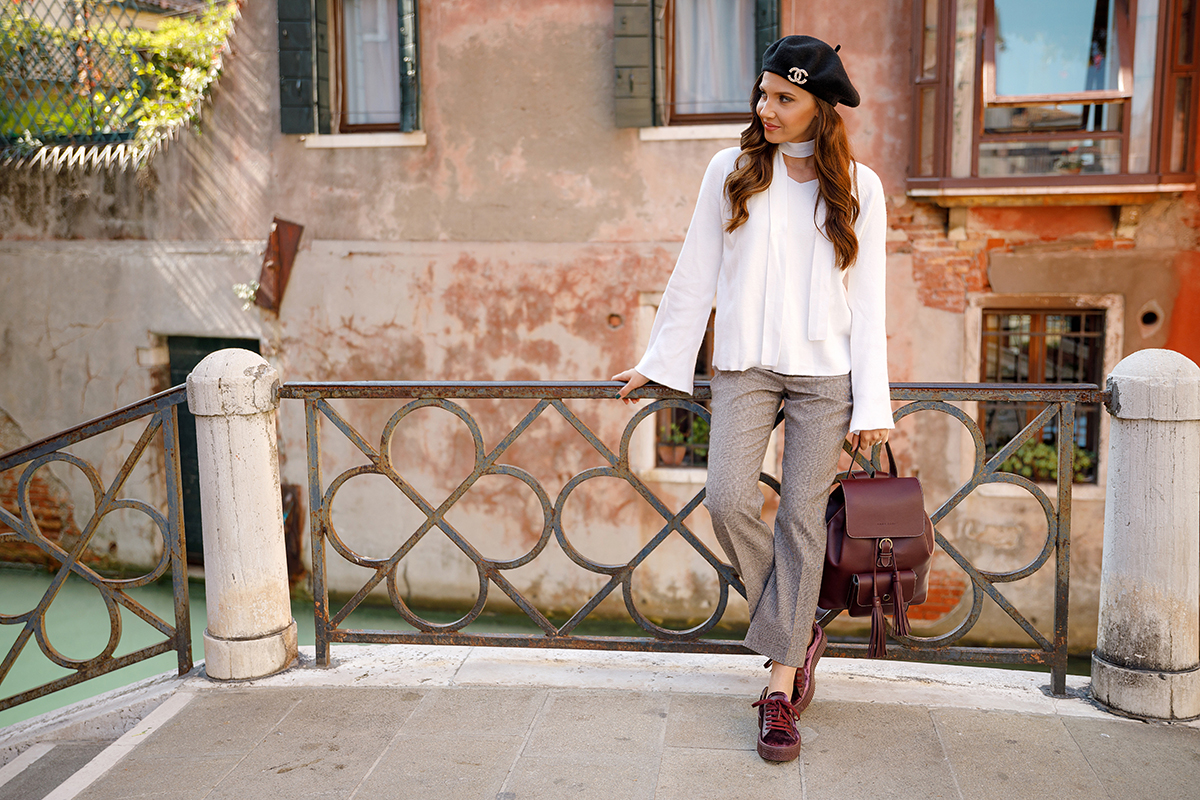 If you want to do a little time traveling in Venice, go to Caffe Florian to see the oldest coffeehouse in the world since 1720. I was so happy to see how they kept everything so authentic from the furniture to the walls and even the cups.
Piazza San Marco is a magical place, especially during sunset and sunrise, when the orange sky colours everything and gives life to the old immense buildings.

Guys, if you'll ever visit Venice you MUST go on a trip to Murano and Burano! This was one of my favourite days spent in Venice. We have booked a tour with City Wonders to visit Murano and Burano and found out really interesting facts about this area from our lovely guide, Chiara. First stop was Murano and we saw live how they shape glass horses and vases. It was really amazing to see how they can create masterpieces out of what seems at first dust. The next stop was Burano that simply took my breath away with its lovely colourful houses. A lot of flowers hanging by all their windows and really quiet and peaceful town where everybody seems on vacation. Burano is also famous for their lace making and you guys must see the youngest lady that does lace in there.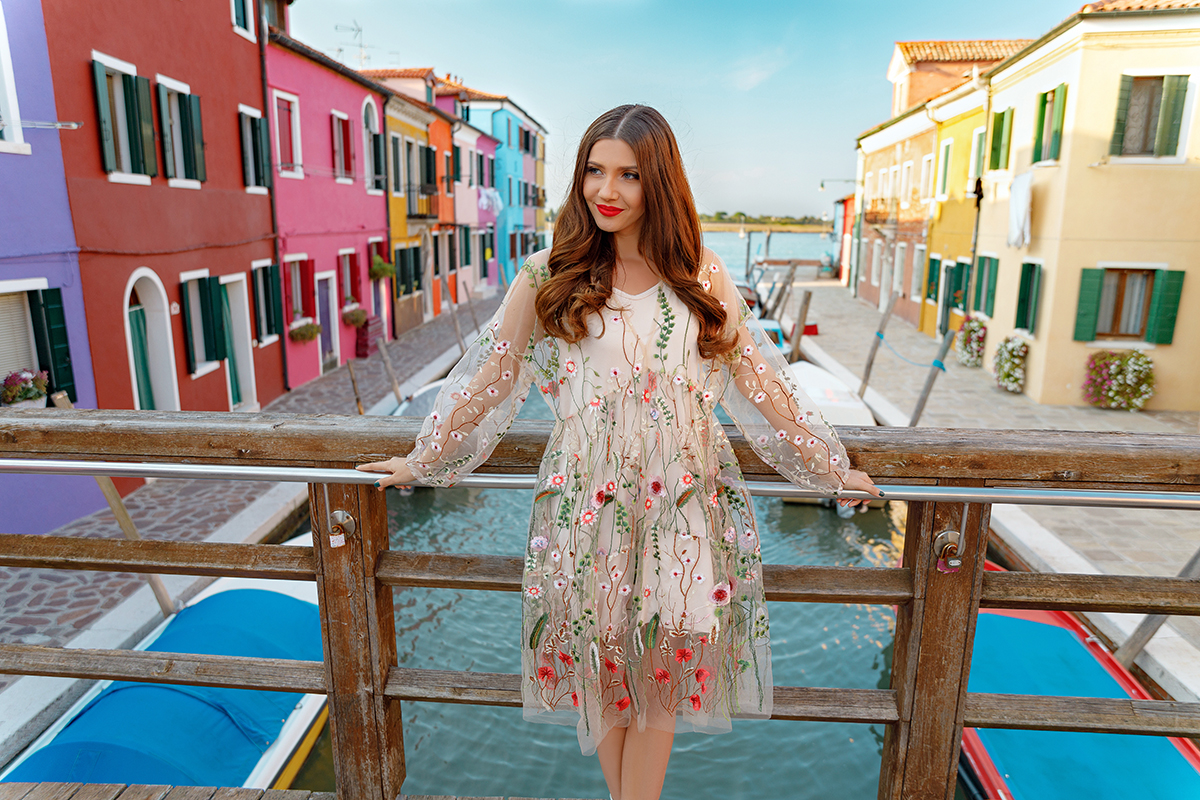 Can't believe I've been to Verona before many years ago and didn't see its real beauty till now. I thought that it looked nice back then too, but I was too busy shopping my way through Piazza delle Erbe, that I couldn't even enjoy all that beauty. We didn't have much time now either, but we both loved Verona so much that we've said that this is definitely a place where we could live. Every corner is so romantic and I simply loved how each house was the reminder of old love story. I would move there on Monday if I had the opportunity. Every corner is so romantic and mysterious that you feel like you are not a simple tourist, but the main character in a love novel. Our home for two days in this wonderful city was Palazzo Victoria that contributed to our beautiful story from Verona. Loved how they have combined the modern designs with the vintage ones and the interior garden was my favourite place. I could stay in there for hour sipping on cocktails, that were delicious, by the way.
If heaven was a place on Earth, for me it would be the gorgeous Italy and Riva del Garda the center of it. Couldn't imagine fall could look so nice in a place, but I simply loved the view we've had from our hotel Lido Palace and how the lake, the mountains and the rusty coloured trees combined together in the most beautiful live painting. The place is an oasis and if this is how it looks during autumn I cannot even imagine the beauty around it during spring or summer. If you're planning to visit the Lake Garda, you must stop in Riva del Garda at Lido Palace and I'm sure you'll love it as much as I did. I cannot to be back.
The first few days of October were spent on the French Riviera and we have started this trip with beautiful Nice, which was a really great destination to start with. Nice is a lovely place with lots of hidden treasures and a lovely city center. It is a great touristic place with lots of beautiful squares, parks, fountains, restaurants and shops. We have stayed really close to all that at our home in Nice, La Malmaison Nice, a beautiful hotel where their hospitality made us want to return as soon as possible. We got there by evening and it was really dark to see the outside of the hotel, but as soon as we got to the room we saw how cozy it was and the lovely balcony with a great view over the Victor Hugo Boulevard. Another place that is not on the tourist map is Jardin du Monastere de Cimiez really close to the Matisse Museum. Of course you have to see Place Massena, but also Promenade du Paillon, especially during summer where kids play with the water fountains all day long. Another beautiful park a and fountain is in Jardin Albert 1er.
My favourite place from this trip to the French Riviera was on the romantic streets of Saint-Paul-de-Vence. I have loved every inch of this little town and felt completely charmed with it. I definitely recommend it to you and I really want to go back and raid every art gallery there, smell each perfume from their little perfume shops and drink my coffee at one of their amazing bistros.
Eze is another magical place in the French Riviera and it is basically a citadel on top of a mountain that looks like a film set. Everything about it seems surreal and during fall I think it's the prettiest, as the green ivy turns red on the stone walls. There is a special restaurant there that was closed when we went, but I have it on my bucket list. If you ever pass through Eze, you should try it and tell me if the food is as good as the place looks like. It is called Mas Provencal.
On our last days spent in France we have stayed at Grand Hotel des Sablettes-Plage and those were probably the most sunny days from the entire period. Although it was late October, we have had a great time and even got some tan from our balcony. While we were there and Toulon was super close, we decided to go there as well and check the city center. Everything looked super nice and French.
Cannes wasn't really my style. Maybe because we have visited it in fall and couldn't go to the beach. I think it's the perfect city for shopping, but that's it. Thanks to our hotel  La Bastide D'Oliveraie, that was our home away from home and made our whole experience better. It is located super close to the city center, Boulevard de la Croisette and Rue D'Antibes, but in a quiet area with a great view. We have had some really amazing sunny days and even though it was late October we had the chance to relax by the pool and on their rooftop jacuzzi for a bit.
Monaco was another place that just wasn't my type. We have managed to stay there for only a couple of hours, but the place wasn't my style. Everything looked super luxurious and nice, but I think it was way too much opulence. Nothing historical or interesting for me, except for the shops, but they were all closed on Sunday, so… I think I will have to go back and see if it will win me back then. 😛
I am super excited to finally start telling you the story of my Palma de Mallorca adventure  from November and I will begin with the beginning and our first stop there. First area that we've visited and stayed in was Son Vida, really close to Palma, the capital of the island, a very green and quiet place. We have stayed at Castillo Son Vida and it was actually the best place we could have booked. The building itself is a 'castillo' and they even have a big tower that looks amazing during the evening. The best part of this place is their immense golf fiend, gardens and a terrace from where you can see the whole city. First time we got there was super late and couldn't see much of the view, but in the next morning we've had breakfast with this amazing landscape in front of us. Also I have to tell you about the delicious dinner we've had there and as you can see from the pics, it was pretty appealing too.

Alcudia is a small little town full of charm where everything was closed the evening we got to visit it. We have stayed there at Zafiro Palace. We've spent a couple of fabulous sunny days there and enjoyed all of the premises of the lovely hotel. It is an all inclusive five star hotel, where you actually feel like a celeb. It is composed by more buildings and they have a lot of pools and gardens. We have stayed at the last floor room and we've had a superior terrace with sunbeds and jacuzzi, where Adrian spent most of his time. :)) Alcudia is a really small town and without many torists in that period, but I didn't mind at all. This way we got to hear only the locals talking and walking on the streets and enjoy the lovely golden hour light that  was making all the stone walls shine. We've walked around it's streets for about an hour and then we went to Inca to have dinner where our friend Andrei that has been living there for about 16 years took us to a lovely restaurant Sant Angelo that had tables to dine inside a beautiful chapel. If you ever go there, you have to have dinner there ,because they have delicious food and great atmosphere. So sorry I didn't take a picture there, because I cannot find it online.  Later edit: I have found it. It's S'Angel, that's why I didn't find it initially. Inca is also filled with pubs, open up late, if you're there to have a good time.

Can't tell you how happy I was to have had some sunny days that month. And since we couldn't see the colour of the sky in November in Romania, I thought of sharing this place that is a great escape for the cold months, OD Port Portals Hotel. I have to tell you that this hotel was one of the most entertaining that I have ever seen and stayed in. When we first got there they have just finished a yoga class and everybody was having a good time. On Saturday they are throwing one big Mexican brunch , that we got to experience ourselves and besides the amazing food they also have mariachi singing and the whole atmosphere is super relaxed and fun. OD Port Portals surely knows how to make you feel welcome and they are making sure you are having the best time while you stay there. They have welcomed us with fruits and champagne and every guest there can use one of their smart cars to explore the area. They have also scooters to rent for the more adventurous ones and not to mention the great rooftop terrace view across the ocean and the playful catamarans.
We went to Palma de Mallorcaonly during evening and mostly for shopping, so I cannot tell you much about the capital of Mallorca, except that I heard they have a great fish market where you can get the freshest mariscos and they also cook them for you on the spot.I will have to try it next time.
Next we have stayed at stayed at Barcelo Illetas Albatros, a four star hotel, beautifully located right on the shore. We have had a great view from our room balcony, but nothing compares to their own little private beach and their pool located right in front of the sea. From there we could watch the most beautiful pink sunset and the atmosphere was so relaxing.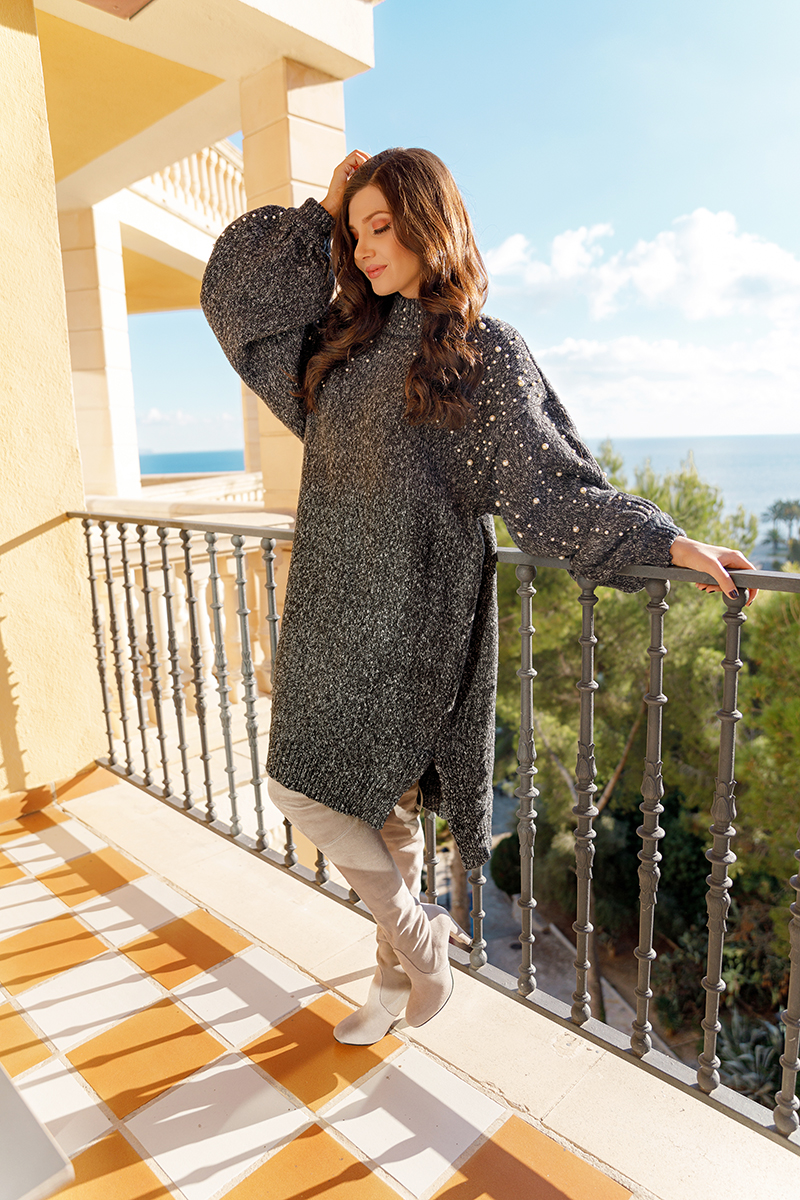 Loved our visit to Soller, the most beautiful small town in Mallorca, in my opinion and ohh that old tram passing every half an hour through the city center. Soller and Valldemossa, actually. These places have completely stolen my heart and who knew that late fall can be so beautiful there, too. All of the people of the island told us that we wouldn't find rusty trees, because this is the always green island, but lucky us, we started to explore and found these gems. I have told you that the best places and views are usually outside the touristy areas and we always find them on the road. (thanks Autoclick for that)
This place is one of those in a really dangerous ramp, but from where you can see the whole hill of Valldemossa. We couldn't have found this really amazing place if it weren't for our Autoclick ride and we are really thankful for that. We saw the most amazing sunset from there and took these pics. Hope you like them as much as I did!
Another town that you should check while in Mallorca is Fornalutx. It as charming as it is small and the city center is so peaceful and romantic. I loved the stone steps that led to many narrow streets filled with green plants. Besides from this little center, the town is surrounded by rustic 'fincas' , rustic ranches that I am sure that look amazing from the inside as well. We didn't have much time to explore them, but they've left us the impression that they are something spectacular from the glimpse we've caught by the car window.
Last trip of the year was spent in our country, in beautiful place in Transylvania, perhaps the most beautiful castle and domain there. The Zabola Castle dates from the 15th century, but was restored many times and the estate was now transformed for the public audience. It is now a magical place during winter and as we got there, the big gates opened and a long alley filled with small bridges over a river and a lake led us to the castle and the cottage where we have stayed in, named The Machine House.
Everything was magical as it just started to snow and before we got to our room we saw a carriage with a couple of passengers that were dresses like in the old times. Still don't know if they were tourists or actors, because they looked from a different era. That has definitely led us to a mystical atmosphere, that was later strengthened by the beauty of the rooms. We have stayed in the Yellow room, where there is a fireplace, that was the main 'attraction' of our trip. It was super fun to stay in front of it with our friends and enjoy a glass of wine while playing Activity. Our friends' room was across the hallway and they had the most amazing bathroom with a vintage elegant tub just in front of the window to admire the landscape. Every room had a great view and it was magical to wake up the next morning, pull the curtains and see an immensity of white. It was indeed magical and felt like a little kid again when I used to spend my winter holidays at my grandparents and always got super exited for the snow.
The breakfast area is in different building, so we had a lovely morning walk in the fresh snow till there, where we ate a Romanian traditional breakfast next to a huge cozy fireplace. After that we started exploring the domain and take pictures next to the lake and every single snowy tree. The hills and the woods in the background gave us such an amazing landscape that we needn't go outside the estate to discover more. Everything we needed for a couple of days of relaxation was inside this immense estate and I cannot wait to go back and see how it looks in every single season.
Happy new year with good health and great adventure, guys! <3