Hey babes, as you probably all know already I love dressing up in semi formal outfits. Silky dresses are my thing and I love wearing them during the day as well, but dressed down a bit with some boots or flats. This was the outfit I wore a couple of weeks ago for an event and it fits perfectly in one of the spring trends proposed by Shopbop. They just can't stop with their sales and they make me go crazy with all those deals for designer items. Every time I have to fill up my card with just the cutest pieces. But this spring they have some new entries to die for. So many cute prints and cuts. If you want to see my selection of their styles, scroll down and you can get some inspo for this season.
I was wearing:
Blends of Love silk dress
Only Hearts top from Shopbop
Ganni white coat from Shopbop
Jessica Buurman white boots
Chanel vintage bag from Shopbop
With the change of the season comes the change of wardrobe. I have so many amazing trips planned ahead, that I just cannot stop seeing myself on a white Greek street or on a tropical beach wearing some of these amazing trends.
The Tropical Punch is one of my favourite trends and the bright colours and the prints just bring summer a bit closer. I love all of their picks in this section and it is so hard for me to choose just one or two. If you want, you can help me by sending me links of your fave pieces.
Sporty Sandals – a trend I never thought I'd like, but never say never. I just fancy myself in one of those tropical print dresses, but matched with a pair of fun sporty sandals to make the look pop.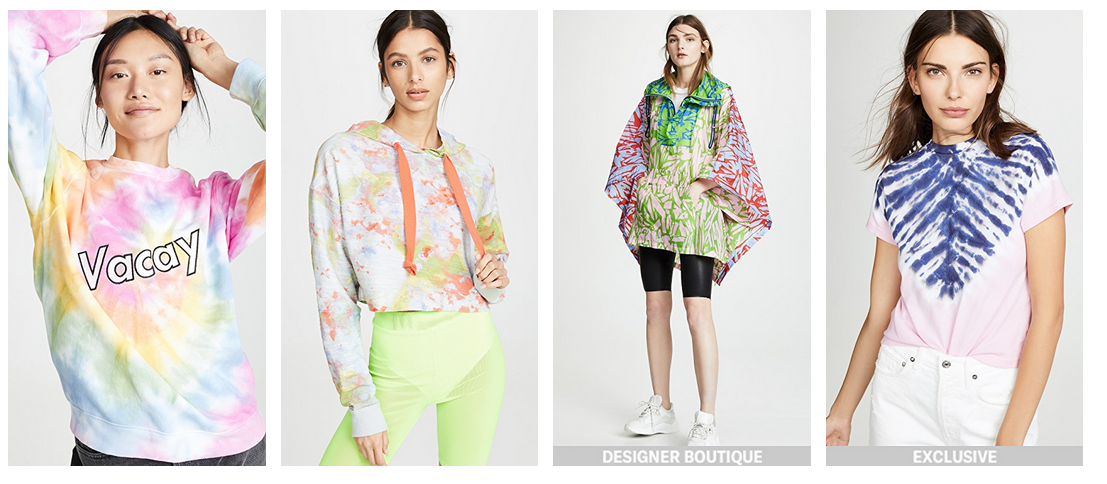 Totally Tie-Dye – these tops are to 'dye' for. They just have vacation written all over them and they are so cool and versatile that can be worn with silky skirts for a nice contrast or with very colourful bike shorts. Either way you know you're gonna look cool this spring if you wear one of these prints.
Shell Yes? Of course, count me in for shell everything. I just love shell jewelry and I don't want to brag or anything but I think I have anticipated this trend since last summer when I made myself some handmade shell jewelry. But it is time now to dig into these designer gems, literally.
Semi Formal must be my life motto. As I have told you before, I looove to dress up in cute feminine dresses, but for day wear, try and wear them down with an unexpected pair of shoes and they will look even cooler. These pink and mauve ones are my fave.
Farm Rio – Shopbop introduces a new Brazilian brand to their portfolio and I'm in awe. I can't wait for more pieces to be added, because I love everything about these feminine but relaxed cut items.
This matchy set and dresses are my favourite. What's not to like: they have colour, geometrical prints, florals and polka dots.