There are only few more days till Christmas and I know you must be freaking out about what presents to get for your loved ones. This is why today I want to give you some perfect suggestions for her, but also for him.
I got what I wanted and I even got to test it for you. It's the newest brush from Babyliss, Liss Brush 3D and I even filmed a tutorial to show you how it works on my extremely curly and frizzy hair. Yes, I have curly hair. I know that many of you didn't know that because I always straighten it before styling it afterwards. I couldn't even remember how my curls looked like after approximately three years of blow drying it.
But I was eager to see what the Liss Brush 3D from Babyliss was capable of and I've put it to test. If it could straighten my hair, it can straighten any type of hair.
In conclusion, it passed the test and I recommend you watch the video and see for yourself. I am super happy that my hair is protected and this brush doesn't harm it as much as a normal straightener, because the heat comes only from one side and the hair is not pressed and damaged as much. How does it work? it's super easy, although I thought otherwise when I first saw pictures of this brush. I just wouldn't understand how it can straighten the hair from just one single move, but now I know it's thanks to the unique combination of  126 bristles. It has 34 mm plastic ones that separate the hair strands, the silicone 42 mm ones untangle the hair and the ceramic ones of 50 mm get heated, straightening the hair for a long period of time.
I believe the whole process lasted less than 10 minutes, which is a record for my extremely tangled and curly hair. I couldn't have done it as fast with a normal straightener and I love that the size of the brush is bigger, this meaning that a larger surface of hair gets straightened faster than ever. What is even cooler is that you can also style your hair like in the salons if you easily turn the ends of your hair which way you want.
It has three temperature levels, of 160, 180 and 200 degrees and you can choose the one suitable for your type of hair. I chose the maximum because my hair is really curly and frizzy.
I'm not forgetting about the guys either and if you are looking for a present for him, Babyliss has also a line for men. I was thinking to get Adrian a shaver, but shh, it has to be a surprise.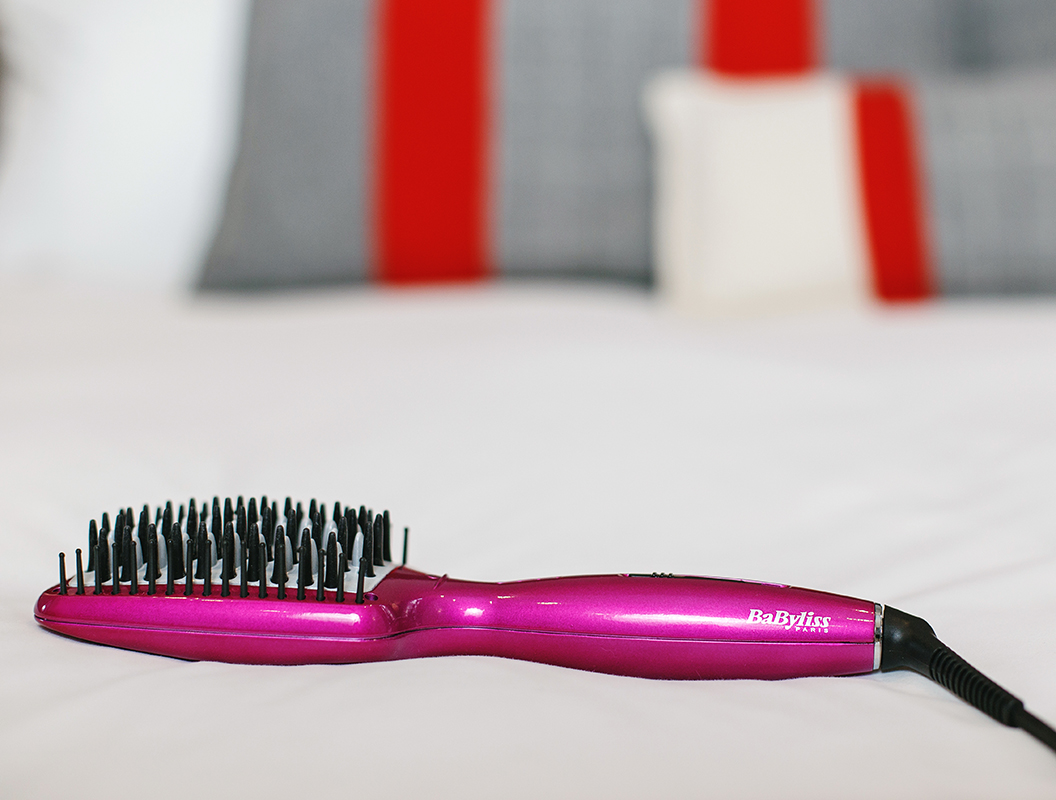 I was wearing: My Bandage Dress jumpsuit